Purdue Holds on for Win Over Vermont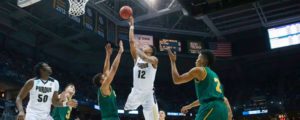 Purdue held on for a hard fought 80-70 win over lower seeded Vermont.  When a 13th seed plays a 4th seed, they are serious underdogs that people overlook.  However, during the first half of the game, viewers could not tell which team was which.  At the ten minute mark of the first half, Vermont led Purdue by two points.  The two teams battled back and forth the first half with neither team giving an edge.  The biggest lead of the first half was six points by Vermont twice.  Despite that, Purdue ended the half on a 17-10 run to take a one point lead going into halftime.  Freshman Anthony Lamb led Vermont with 14 points at half while sophomore Caleb Swanigan had 11 points.
Who Wants it More??
Purdue started as the aggressors with a 8-2 run to start the second half.  This put Purdue up by seven point early in the second half.  Vermont would answer right back with a 12-6 run of their own to cut the deficit down to one point.  Vermont comeback was short-lived with a 10-4 run by Purdue.  Every time Vermont came back, Purdue would answer right back.  With the game close, Purdue went on a late 17-11 run to go up by 11 points.  After that late run, Vermont could not come back.
Junior Vince Edwards finished the game with a game high 21 points for Purdue.  Lamb finished the game with 20 points, nine rebounds and three steals for Vermont.  Purdue will play the winner of the (5) Iowa St. and (12) Nevada game.