The Reamon name floods through the streets of the 757. It's embedded in the game of football throughout the state of Virginia and well respected throughout the nation. The reason for that is because of the hard work, long hours and dedication to the game put forth by Tommy Reamon.
Reamon graduated from George Washington Carver High School in 1970. He played college football at Fort Scott Junior College in Kansas, as a Running Back, where he later finished his collegiate carrier at the University of Missouri. Reamon was inducted into the NJCAA Hall of Fame in 1998. In 1974 Reamon was drafted by the Pittsburgh Steelers and the Florida Blazers of the World Football League. After the WFL folded, Reamon joined the Pittsburgh Steelers in 1975. His professional playing career came to an end in 1978 after he was cut from the Washington Redskins.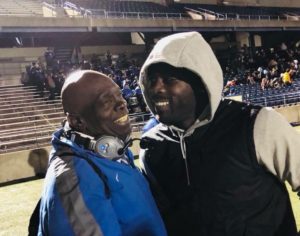 After his professional career, Reamon did some acting but ultimately found his way back to the game of football as a coach. He coached with Newport News Public Schools for years, starting off at Ferguson High School where he coached NFL Quarterback Aaron Brooks. He later moved on to coach at Warwick High School. While at Warwick, he coached one of the NFL's most talented players the league has seen in Michael Vick. Since 2008, Reamon has coached the Landstown Eagles to the VHSL playoffs four of the last eight seasons.
On August 12, 1989, his son, Tommy Reamon Jr., was born.
Reamon Jr. has been in love with the game of football since he was born.
"My mother always tells the story of the first night I came home from the hospital after being born. According to her, my dad had a small football for me that first night and he slipped it into my arms while I was sleeping. It was probably love at first sight."
Reamon Jr. played Quarterback at Gloucester High School throwing for 1,200 yards and 11 touchdowns, while rushing for over 500 yards and seven touchdowns and a senior. He was coached by his father. Reamon JR. attended Old Dominion University where he graduated with his Bachelor's degree. He took his fathers footsteps and entered the world of coaching.
Reamon Sr. was married to the game of football. As a head coach, there's so many hours and late nights that are required to be as successful as Reamon Sr. has been, but Reamon Jr, said that never affected their relationship.
"Being a football family is all I've ever known. When my mom went into labor it was during August training camp so my dad was at football practice and had to have a police escort to the hospital. Football is a way of life for us. Growing up with a "football Dad" was great. He was and is dedicated to the game, but one thing that I've learned from him is that to be consistently successful, you have to consistently put in the work. Success demands that type of dedication."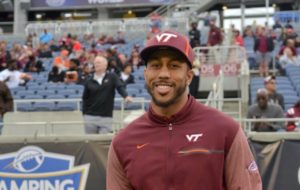 From 2012 to 2014, Reamon Jr. was a Graduate Assistant at the University of Virginia where he served under Mike London. This was his first coaching gig post graduation. In the spring of 2014, he landed an internship with the Pittsburgh Steelers. Reamon Jr. was apart of the Miami Hurricanes' coaching staff as an Offensive Quality Control coach in the Fall of 2014.  He later was a Running Back coach at Christopher Newport University.
After his coaching position at CNU, Reamon Jr, began to scout players where he attended the Reese's Senior Bowl and the NFL Combine in 2018. He is currently on the coaching staff at Virginia Teach where he said he's always had extra love for that school and football program.
"I grew up a huge Virginia tech fan, so working at Virginia Tech has been a dream come true," Said Jr. "Coach Foster is a living legend that I have known my entire life. My brother DeWayne Knight played linebacker here in 1989, which is the year I was born. Naturally I was huge Vick fan so he made me love Virginia tech even more. I feel so connected to the school's history and I've enjoyed watching the growth of the program. My greatest memory to this day is being down in New Orleans at the National Championship watching Mike take on Florida State and Bobby Bowden."
From the outside looking in, it would seem that Reamon Jr, has huge holes to fill along with added pressure to live up to his father's legacy but he says that's not the case.
"As a player and a coach, my dad has reached pinnacles that some people can only dream of. He's in numerous sports Hall of fames and played professionally. I was never pressured to play or coach football, it was always my choice. He would always tell me "whatever you decide to do in life, you work to be the best." I think my passion and love for the game naturally made me give it my all. He never had to tell me to work at getting better, I wanted to be the best. I learned that from him."
Although Reamon Jr. is only 28 years old, the impact that his father has had on his life is unexplainable.
"Words can't explain how much my dad means to me. I have the best role model a man can ask for. Everything I'm working towards, he's already done or helped someone else do. His advice is priceless and I clearly wouldn't be in the position I'm in with out it. He's my biggest fan and his support is tremendous. I've watched him mentor so many young men throughout my life. He has turned down numerous job offers including collegiate and pro because he's always felt his purpose is to help change children's' lives. Seeing successful people across the country like Mike Tomlin, love and respect my dad because he helped or guided them along the way is proof that he is living his purpose. I strive to have that kind of impact on people."
There's something special about the Reamon name. It has a certain ring to it. We've reached a time where you can't talk High School football in Virginia without bringing up the Reamon name. As Reamon Sr. continues to "polish diamonds" at Landstown, Reamon Jr. looks to continue to move his way up the coaching chain, along with scouting young talent, to polish his own diamonds.