Coach Gruden Press Conference
Coach Gruden when asked about Adrian Peterson and his effect on Derrius Guice and Chris Thompson coach responded, " You can't forget about Perine, Reynolds, and Marshall." Clearly Gruden doesn't want to forget about the other running backs.
Coach Gruden asked to assess the safety position spoke highly of all four: Landon is solid, Montae is gaining confidence, Apke is healthy, and Everett is confidence again.
Coach Gruden asked about the fights yesterday Gruden responded, " you can't have that. I love competition but that was too much." Gruden made the team run sprints after the altercation.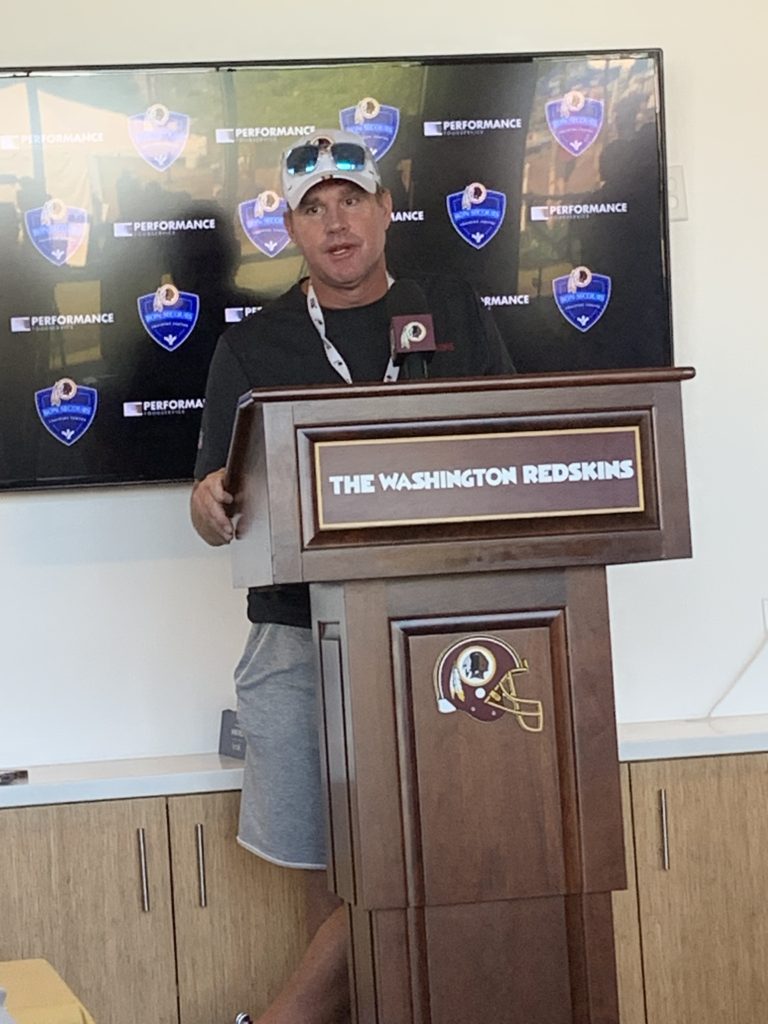 More Subdued Today
After tempers flaring the last two days of practice today was a lot calmer and relaxed. A few players had days off for various reasons: Chris Thompson, Ereck Flowers had the day off, while Montez Sweat and Cassanova McKizzy had minor injuries that were being monitored. As the team heads into a day off, the team at this point is relatively healthy.
Derrius Guice Shines
Running back Derrius Guice had a terrific day of practice today. First he was explosive hitting the hole and showing a bursting going through the hole. Also catching passes out of the backfield Guice was solid as well. Guice at this point of camp looks completely healthy and ready to contribute to the offense. Another star today was wide receiver T.J. Rahming. After dropping a long pass from Colt McCoy that would have been a touchdown, Rahming caught some tough passes later on including a touchdown from Haskins on a deep crossing route. Rahming is battling for a practice squad spot and must continue to show promise.
QB Battle: Haskins, Keenum up and down; Colt Steady.
In as the quarterback turns, today Colt McCoy received most of the first team reps. McCoy does the best of the three quarterbacks getting the team out of the huddle, set, and calling audibles. Case Keenum had an uneventful day, occasionally showing promise and other times ice cold with bad reads and throws. Dewayne Haskins had the most up and down day of the three QB's. His first series in 7 on 7 was horrible missing open receivers and looking on the wrong side of the field, but he turned around and had a great series throwing the ball all over the field. As usual this will turn around as the team heads towards it's first preseason game.