Ricky Stenhouse Jr. Wins Coke Zero 400
In a caution filled race that saw a record 14 yellow flags at Daytona, Ricky Stenhouse Jr brought home the Checkered Flag. This win comes just a little over two months after Stenhouse Jr collected his first career victory. That too came at a restrictor plate race at Talladega.
After a late wreck, which brought out the red flag, collected Kyle Larson, Ryan Blaney, and Kurt Busch, the field had a three lap shootout to determine the winner. Before they could get to the final lap, another caution came out which involved Denny Hamlin, the race was going to be determined by a Green-White-Checkered.
Momentum For Ricky Stenhouse Jr.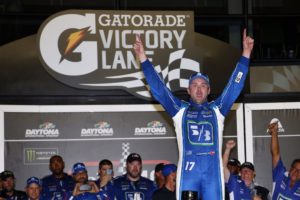 Half a lap into the G-W-C, David Ragan went high to block Ty Dillon. That opened the door for then third place driver, Stenhouse Jr. Getting some momentum and side drafting from Ragan, Stenhouse Jr. was able to take the lead. The last lap and a half saw Stenhouse Jr checking his rear view mirror prefousley to hold off Clint Bowyer and Paul Menard. With more than a car length lead, Stenhouse Jr. brought home the victory.
Roush Fenway Racing
Tonight's win was Roush Fenway Racings fifth Coke Zero 400 win in their history. Prior to this year, RFR had zero wins in 2015 and 2016. The famed organization has two in 2017.
The remaining Top 10 finishing order in the Coke Zero 400 was Clint Bowyer, Paul Menard, Michael McDowell, Ryan Newman, David Ragan, Brenden Gaughn, A.J. Allmendinger, Erik Jones, and Chris Buescher.
In his last race at Daytona, Dale Earnhardt Jr finished 32nd. The 19-year veteran was collected in two separate wrecks. Earnhardt Jr. was the favorite heading into tonight and started on the pole.
2017 Daytona 500 winner, Kurt Busch, was unable to pull off the sweep and finished 28th.
This win moves Stenhouse Jr. to fifth in the Monster Energy Cup Standings. The NASCAR schedule visits Kentucky Speedway next weekend.