The Seattle Seahawks hosted their first Madden Championship Tournament at Museum of Pop Culture (MoPOP). Eight contenders competed in the tournament, which had high stakes. The loser would go home with experience under their belt, while the winner would win part of a $15,000 prize pool and a spot in the Madden 17 Club Series Championship in April.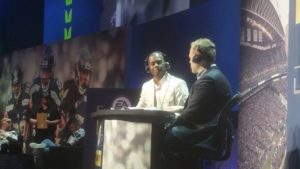 Going into the tournament, The RealistStix was the favorite to win it all. On the sticks, opponents tried to throw blitz schemes, knock him off his game, and mix it up a little bit. It did not work. The RealistStix came out to win it all. He was very aggressive with throwing the ball on his opponents, played very smart, and hit the kill switch to make sure his opponents did not come back to make it a game.
Dave Grunfeld hosts a weekly show on NFL Network called Madden NFL America and he was excited about the fans that came out to see the tournament. "You see events like this and it really all starts to come together. "Our show is just part of a larger cog; it's this whole community that is growing right now. It's really cool."
"The plan is to continue to integrate the NFL with the Madden community," said Grunfield. "There is so much overlap and it's a natural fit. This is the first year where there is real serious money and attention being paid to this. This is the ground floor. It's an exciting time."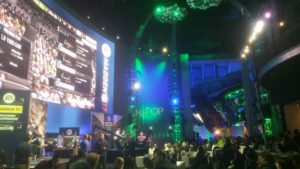 Withe a break in the tournament, Seahawks' own Doug Baldwin facing off against former Seahawks' safety Jordan Babineaux. Both players played with intensity and loved every moment that they shared with the fans. Baldwin won the face off and explained why games are important to him.
"Games are an escape for myself, as well as other players. I can control the game, where in reality I don't really have control. I enjoy that part to get away from time to time, said Baldwin.
The tournament was something special that gave exposure to people who enjoy playing Madden.