FS1 commentator Skip Bayless had some strong against the Baltimore Ravens quarterback. 
Bayless has been known to be a vocal critic against Joe Flacco in the past. This time it was in response to links between Colin Kaepernick and the Ravens.
"I would give the Ravens a little better chance to go farther with Colin Kaepernick as their QB than Joe Flacco." — @RealSkipBayless pic.twitter.com/nOKPJHMQIR

— UNDISPUTED (@undisputed) July 28, 2017
Bayless has often called Flacco, "Fluke-o" and believes that Kaepernick would be a better fit for Baltimore. He even went as far
"You know how I feel about Joe Fluke-o, as I call him," Bayless said. "His playoff record is — it's just impeccable. It's inarguable. It's not debatable. He's been sensational in the postseason. Regular season, not so much. So after he beat, barely, Colin Kaepernick in that Super Bowl, they made him the highest-paid player… Joe Flacco became the highest-paid player in the National Football League, and then they extended him again in 2016 and gave him a bonus that again was a record bonus. For Joe Fluke-o?"
Bayless would continue to cite Baltimore's all-time playoff record, while failing to consider Flacco's own playoff record (10-5). Flacco also has made 253 completions for 3223 yards, thrown 25 touchdowns and 10 interceptions.
"So since the Super Bowl, the Ravens' record is, in the regular season, 31-33. Is that the highest-paid quarterback in pro football? [Derek Carr of the Oakland Raiders is actually the highest paid quarterback, making $25.005 million per season. Flacco is fifth, making $22,133,333 per season] And in that time since he won that Super Bowl, Joe Flacco is 19th in completion percentage, only 17th in touchdown passes. and he's thrown the third-most interceptions since he won a Super Bowl. …"
"But, Skip," Shannon Sharpe, a former Baltimore Raven and Super Bowl champion, said. "That's who he is in the regular season."
"That's who he is," Bayless would say in agreement. "But I can make a case, when I look at Colin Kaepernick's regular-season records, he's better than Joe Flacco. Seriously. I'm not just saying that for effect. If you gave me a choice today — again, I can't argue with the postseason, but Kaep's been pretty great in the postseason, too, right? I mean, we don't have the body of work.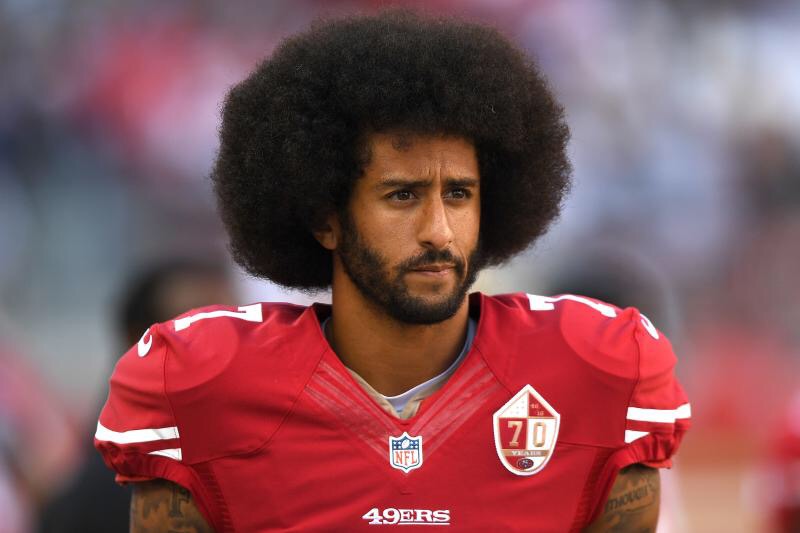 "But if I just look at regular season, Kaep's been a little better. And his touchdowns to interceptions in the regular season, Colin Kaepernick: 72 touchdowns to only 30 interceptions. That's his whole body of work in the regular season. Flacco, regular season: 182 touchdowns — pretty good — but 117 interceptions is pretty bad. Well, OK, I can make a case … I think they would be a little better, I would give them a little better chance to go farther, with Colin Kaepernick as their quarterback than Joe Flacco. That's just me."
Since 2015, Kaepernick has gone 3-16, with a 59.1% completion rate, 3856 yards and a 22:8 touchdown-to-interception ratio. In the same span, Flacco has gone 11-15, with a 64.7% completion rate, 7108 yards and a 34:27 touchdown-to-interception rate. To say the least, Flacco has had more success, despite tearing his ACL late in 2015 and returning the next season. Kaepernick has also dealt with a shoulder injury, which caused him to lose weight and not be in football shape for the 2016 season with the 49ers.
This isn't to say that Kaepernick wouldn't be a solid backup to Flacco, but he doesn't have the same success that Flacco has had, since participating in the playoffs.