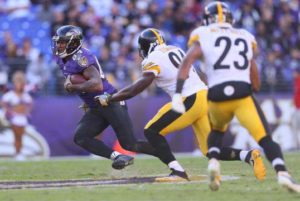 The Baltimore Ravens defeated their bitter AFC North Rival, the Pittsburgh Steelers 21-14. Ravens snapped their four-game losing streak and move to 4-4 on the season and now currently lead the AFC North. Here is The Sumpter Six for week nine:
JOE FLACCO: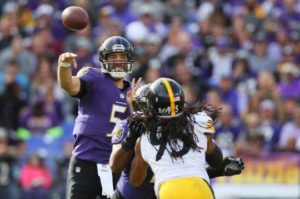 Joe Flacco had a pretty decent game. He was neither great nor bad. The key play was the 95-yard touchdown pass to Mike Wallace. The longest in his career. Joe Flacco finished the game 18-for-30 for 240 yards with one touchdown and one interception.
DEFENSE WAS A "WALL":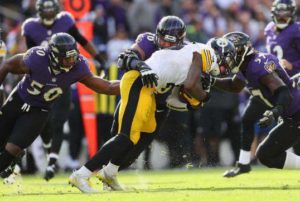 The defense came up huge for the Ravens today. They held the Steelers to 67 yards of total offense in the first half. What was even more impressive was holding Le'veon Bell to just 32 yards on 14 carries and overall, holding the steelers to just under 40 yards rushing while causing two fumbles.
INTERIOR LINE: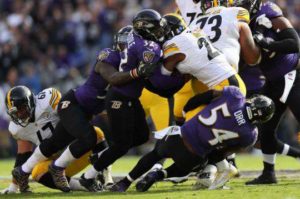 The rookie from Grand Valley State linebacker Matt Judon is showing the league that he wants to make a lot of money in the near future. He sacked Ben Rothlisberger on a key play. Defensive tackle Brandon Williams is turning heads on that defensive line and will be a free agent at the end of the season. Williams may demand a lot of money this off-season if he continues this type of play.
SPECIAL TEAMS COME UP BIG!!
Special teams for the Ravens, as usual, have been huge. Let's start with kicker Justin Tucker. Once again, he continues to be perfect. He is 20-for-20 on the season after adding three more field goals. Punter Sam Koch punting high punts making sure Antonio Brown did have many opportunities to return. Buck Allen was able to block a punt that resulted in a touchdown for Chris Moore.
QUICK TURNAROUND: 
Baltimore can celebrate for a little while but it's a quick turnaround as they take on another AFC North foe, Cleveland Browns. Cleveland is still looking for their first win of the season.