Sweet sixteen action continues in the West
(4) West Virginia takes on (1) Gonzaga
On Thursday Bob Huggins and the Mountaineers will tip off in San Jose against the Gonzaga Bulldogs. The Bulldogs only have one blemish on their record, In a February loss to BYU. They have notable wins against teams like Iowa State, Arizona, Saint Mary's. The team is led in points and assists by junior guard Nigel Williams-Gross (16.7 ppg, 4.7 apg) shooting more than 50% from the field. Gross is also a serious threat from the line shooting with 90.7% accuracy, the Mountaineer's and their press defense will have to be careful not to send him to the stripe.
The Mountaineers are led by junior guard Jevon Carter (13.3 ppg, 3.8 apg). West Virginia is different from any team in the country for many reasons, one being their defense. The second being their depth, ten players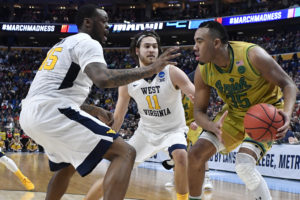 average eleven or more minutes per game. There isn't one or two players Gonzaga will need to be weary of. Throughout the year, the Mountaineers have had many standouts, Esa Ahmad, Daxter Miles Jr., Nathan Adrian, or even freshman favorite James "Beatle" Bolden. The Mountaineers are the best three-point shooting team in the tournament thus far. Making 52% of their shots from downtown. Vegas says the Bulldogs are 3 point favorites, however, if the Mounties can get a hot hand or two in their lineup. The odds are very close to even.
(11) Xavier looks to upset (2) Arizona
The Musketeers have made a big run this post-season. The eleven seed has beat (6) Maryland and (3) Florida State. The Musketeers go on to face what may be their toughest challenge yet, Arizona. The Xavier Musketeers are eight-point underdogs, with junior guard Trevon Bluiett leading the way in points (18.5 ppg).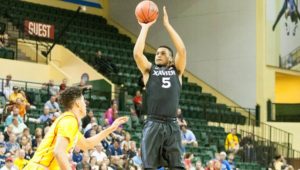 The Arizona Wildcats have come into this tournament not really facing any real challenges. Cruising past the University of North Dakota and beating Saint Marys without issue. Moving on to the Musketeers, who have been fighting for their life all post season. Are they going to be able to match the fight that Xavier has in their blood? Arizona has an efficient and nationally ranked defense; which may cause problems for this Xavier team, that are ranked the second best three-point team in the tournament (50%).
Predictions?
Tomorrow, West Virginia has a strong chance to beat Gonzaga. I think Gonzaga will lead most of the game, using their size to stay on top. However, with West Virginia's depth, press defense, and grit, they will wear the Bulldogs out and West Virginia will pull away with a late lead, upsetting the top seed in the west.
Xavier has fought their last fight, with the efficiency of Arizona's defense, Xavier will be overcome by the Wildcats. However, with such a highly efficient three-point game the Musketeers are not going to go down without a fight.