BRIDGEPORT, Conn. — The Uconn Huskies advanced to the final four in Dallas, TX beating the 10th seeded Oregon Ducks 90-52 Monday night in Bridgeport, CT.
This Uconn team is different than other years. There is not a big named star like Breanna Stewart, Maya Moore or Swin Cash. However, this team has been groomed naturally. Looking at a year ago, Kia Nurse and Katie Lou Samuelson were starters, Gabby Williams was a key reserve, and Napheesa Collier and Saniya Chong were bench players. They've come together to become the nucleus of this great team that continues to show the world and naysayers that doubted them earlier in the year that this team is vulnerable.
The Huskies' 111th consecutive victory moved Auriemma past Pat Summitt for the most NCAA Tournament wins. Auriemma now has 113 and counting.
Uconn stormed out to an early 23-4 lead. Their defensive prowness was on display all night.
"In the beginning of the year, a lot of people doubted us and didn't know if we were going to get back to a final four. We worked as hard as we could and used that as motivation to get back." Samuelson said following the win.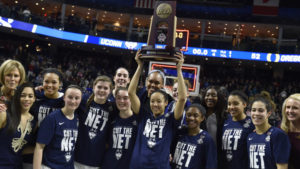 Collier led the huskies with 28 points on 12-for-20 from the field along with 12 rebounds, two assists, two steals, and four blocks.
Gabby Williams scored 25 points and she was relentless on the defensive side of the ball with three steals.
"They've owned the whole month of March, they weren't just along for the ride," Geno Auriemma said. "It's theirs and that's a huge step. That's a big step to go from riding in the backseat on a trip you're going to, to all of a sudden you're in charge of driving the bus you're responsible for getting us there."
Oregon:
This game clearly just came down to turnovers. In the first half, Oregon turned the ball over 17 times while Uconn came away with 12 steals. Overall, the ducks committed 22 turnovers in the game which led to 38 Huskie points.
"The turnovers doomed us right from the get-go," Graves said. "That defensive pressure set the tone."
For a team that not many people had expectations for, Oregon shouldn't leave the elite eight upset but rather proud. In this game, they just couldn't get any easy baskets and the pressure was relentless.
Final Thoughts:
Overall, Uconn  dominated from start to finish. Anytime you have 12 steals in one-half as a team that speaks volumes. It would have been nice to see #3 seeded Maryland take on the Huskies instead. However, this is the beauty and curse of the tournamaent at times.
UConn will face Mississippi State on Friday night in the Final Four.