We have hit that part of the NASCAR season where the age old question is brought up, will we have 16 different drivers win before the Playoffs start? When NASCAR dramatically changed their version of a postseason in 2014, a "Chase", or what is known today as the Playoffs, berth could be obtained by winning a single race.
There are only ten races left before the playoffs start, and so far this season, NASCAR has crowned ten different victors. That number would have been 11 if not for a penalty assessed to Joey Logano at Richmond that made his win encumbered. These aren't uncharted territories though. In 2015 and 2016, 11 different drivers won a race up to this point in the season. 2013 and 2014 saw a total of 10 drivers win a race by the 16th points event. In each of those years, no more than 13 drivers won a race by the start of the Playoffs. That will be a different story in 2017.
The reason 16 different drivers will win a race this season before th start of the playoffs has a two part answer. The first part is that NASCAR hasn't had this much young talent in a long time. Drivers like Kyle Larson, Ryan Blaney, Chase Elliott, and Erik Jones were either just starting out in NASCARs Premier Series, or still in the Xfinity Series. Fast forward a couple years and we have seen two of those drivers, Larson and Blaney, capture a win already this season. Others like Elliott and Jones have been knocking on the door and are looking to cash in soon.
Big Names Without A Win
The other part of the equation is simple. Many big names haven't captured a checkered flag yet. Nobody from the Joe Gibbs Racing Stable has yet to punch their ticket into Victory Lane. Since 2014, JGR has had at least three drivers win a race before the playoffs start.
Below, are drivers who have won at least one race in two out of the past three seasons: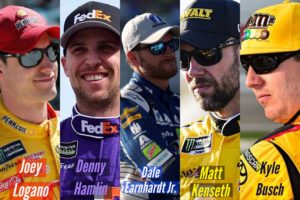 The remaining schedule is an advantage to those five drivers in an effort to earn their first win of 2017. Each has had some kind of dominance at a track that remains in NASCARs regular season.
The NASCAR circuit takes us to Daytona this weekend. When the words "restrictor plate" comes up, the first name out of everybody's mouth is Dale Earnhardt Jr. Junior has won ten of his 26 races at a restrictor plate race track. This past Daytona 500, Dale Jr. had the dominant car before a wreck took him out of the race.
Kenseth has shown he is the man to beat at Loudon the past few seasons. Of the last eight races at the flat, one-mile track, the 20-year veteran has notched three wins, five Top-5s, and seven Top-10s. Kyle Busch has four Top-2 finishes at Indianapolis Motor Speedway in the past five races held at the famed track that include wins in 2015 and 2016. Joey Logano has been able to win at Bristol in August two out of the past three years. Denny Hamlin has an average finish of 3.3 in the past three races held at Richmond International Raceway, which includes a win.
Wild Card
If those drivers were to win those aforementioned races, that would leave five races up for grabs. A true wild card that hasn't been talked about is still in the mix, Watkins Glen. The 2.2 mile Road Course has seen seven different winners in the past eight races. A.J. Allmendinger is a driver that has had most of his success at road courses. Of the past seven races at the Glen, Allmendinger has collected one win, three Top-5s, and five Top-10s.
Competition is heating up and anything goes when a playoff spot is on the line. 2017 is shaping up to be a season that sees 16 different winners before the Playoffs even begin. Here is how I see the remaining ten races playing out.
Daytona – Dale Earnhardt Jr.
Kentucky – Kyle Busch
Louden – Matt Kenseth
Indianapolis – Kyle Larson
Pocono – Kevin Harvick
Watkins Glen – Joey Logano
Michigan – Chase Elliott
Bristol – Denny Hamlin
Darlington – Martin Truex Jr.
Richmond – Brad Keslowski