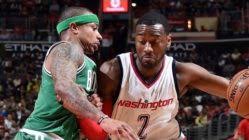 The Washington Wizards even the series at 2-2 with a 121-102 victory over the Boston Celtics.
Who Want It More??
The Wizards carried the momentum from Game 3 into Game 4.  They start the game on a 8-0 run to and put Boston on their heels.  The Celtics respond quickly with a 12-2 run to get back into the game and take a two-point lead.  After that run, Boston gained the advantage throughout the quarter.  Behind nine points from Isaiah Thomas, Boston ended the first quarter with a 24-20 lead.  Otto Porter, Jr. led Washington with 10 points, while John Wall was held scoreless.
Thomas continued to dominate as he opened up the second with two three-pointers.  With 10:54 left in the second, Thomas had 15 points (five 3s) which led to a 15-point lead for Boston.  The Celtics did not slow down as they took 12-point lead early in the second.  Washington came right back with a 11-2 run to cut Boston lead down to three points.  Behind 14 second quarter points from Wall, Washington retook the lead.  The halftime score was tied at 48 with a thrilling second half sure to follow.
Washington Explodes in Third Quarter
Boston made five straight points to start the quarter but Washington would not let that continue.  The Wizards went on a 26-0 run to take a 21-point lead, stunning Boston in D.C.  Behind a great quarter on both sides of the ball, Washington scored 42 points and forced nine turnovers.  This led to the Wizards going into the final period with a 22-point lead.  After 17 first half points, Thomas was held to two points in the third.  The Celtics never recovered from that devastating third quarter and Washington cruised to another dominating victory.
Wall led Washington with 27 points, 12 assists and five steals.  Bradley Beal had a game high of 29 points.  Markieff Morris and Porter combined for 34 points, 18 rebounds seven assists and seven steals.  Bojan Bogdanovic led the bench with 13 points.  Thomas scored 19 for Boston.  Al Horford was the only other starter in double-digit scoring with 11 points.