Wizards Return Home in a Victory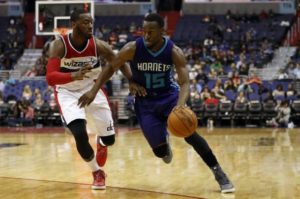 The Washington Wizards end their three-game skid with a win over the Charlotte Hornets, 118-111.
Road Trip Too Much?
Coming off of a five-game road trip and three straight losses, the Wizards showed fatigue early.  The game started with both teams evenly matched up.  Neither team could take control until the Hornets went on an 8-0 run to take an eight-point lead.  Washington came back with an 8-2 run to end the first quarter and only trailed by two.
Washington started off the second quarter much better with a 10-6 run to take an early two-point lead.  The rest of the quarter went down hill from there.  The Hornets went on a 23-12 run to end the quarter.  They went into halftime with a 12-point lead behind Kemba Walker's 20 first half points.
Different Half, Different Story
The Wizards came out firing on all cylinders.  They came out on a 22-10 run to tie the game halfway through the third quarter.  With the momentum on their side, Washington took the lead a couple of times but could not extend it as Charlotte would not give in.  Washington could do no wrong and outscored Charlotte 36-18 and went into the final period with a six-point lead.
In the fourth quarter, Washington maintained the lead throughout.  However, the Hornets would not go away quietly.  Both teams went back and forth down to the wire.  Washington would not let Charlotte ruin their home return.  Washington overcame a 12-point halftime deficit to get back on track with a win.
Wall led Washington with 23 points, 13 assists and six steals.  Bradley Beal added 19 points.  Washington's bench had a great game with 45 points.  Jason Smith and Kelly Oubre, Jr. combined for 32 points and 10 rebounds.  Walker had a game-high of 37 points for the Hornets.
New York State of Mind
The Wizards got a well-needed victory against the Hornets with the playoffs around the corner.  This gave them their confidence back and will help in the standings down the stretch.  Washington has the New York Knicks up next, who they have beat three times this season.  With the Knicks out of the playoff race, it's hard to guess who will play and who won't.  Regardless if it's Carmelo Anthony or Sasha Vujacic, the Wizards should win this game handily.
New York has tanked this season and is playing for draft picks right now.  With Derrick Rose out for the season with a torn meniscus, the Knicks season is a disaster with no way out.  Washington simply has the better team and will be too much for New York to handle.  Anthony, if he plays, and Kristaps Porzingis are the only threats to Washington.  Brandon Jennings will face his old team for the first time since joining the Wizards.  As long as Washington does not take lightly, they should get an easy win.