It is tradition to start the New Year off by making resolutions. Many people decided they are going to do better and not make the same mistakes they did in the year prior. Unfortunately, the Wizards had similar aspirations. However, they failed only three days into the new year. The objective was defeating both the Rockets and Mavericks. Easier said than done considering both teams are feisty. The Wizards found themselves two games below .500 hoping to get back on track at home.
Where's the Wizards' Second Unit?
Of course, it is true, winning basketball games on the road especially back to back games are hard enough. Accompany that with, the second unit played a combined 63 minutes and only came up with 15 points. They were outscored by Devin Harris and Seth Curry individually last night in Dallas. Nearly the same thing happened the night before in Houston. When this unit produced only 13 points. As Houston's Eric Gordon couldn't miss and had 31 points.
These are the same issues that have been plaguing the Wizards all season long. The question is now how does this unit finally become consistent and help this team not harm it? For the Wizards to be successful someone must step up. Trey Burke received praised, rightfully so, prior to the Wizards' road trip for his performance against Brooklyn. No, it is not expected for Burke to have 27 points every night. Nor is it acceptable for him to have only two points over two games.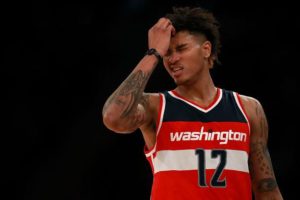 It's not just Burke. The same can be said about Kelly Oubre Jr. who played a total of 23 minutes vs Houston and had no points. On the other hand, Oubre Jr did contribute defensively and had seven rebounds. That is key to being successful because rebounds turn into points.
Head Coach Scott Brooks admitted post game that the team was "outworked" last night against the Mavericks. That's one way to say. Throughout the season this second unit seems to get outworked more often than not.
Home Sweet Home
Perhaps, the one positive thing for Washington is they are going back home. The Wizards are 3-12 on the road. They are currently on an 8-game winning in The District dating back to December 8th. They'll play a Minnesota Timberwolves team that's "going through the motions" with their new head coach. Washington needs to regroup and turn things around and become consistent, particularly the second unit. Oubre Jr said in Chicago a couple weeks back that they will play for a playoff push. In order for that to happen this second unit must play better and contribute.
The good thing is the Wizards can go back to their New Year's resolution and not make the same mistakes as they did last year. If not, then they will be another "at .500" team that did not make the playoffs.