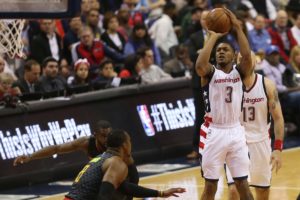 The Washington Wizards retake the series lead with a 103-99 home victory against the Atlanta Hawks.
Too Close to Call
In a must win situation, Bradley Beal was the aggressor in the first quarter. Beal scored nine of the first 13 points for the home team.  After going back and forth for a while, the Hawks went on a 8-0 run behind Dennis Schroder.  After that run, Atlanta never trailed again in the first period.  Washington ended the quarter on a 5-0 run to cut Atlanta's lead down to two going into the second.  After three straight bad games, Markieff Morris got back on track with six first quarter points.  Morris and Beal combined for 17 of the Wizards 23 first quarter points.
The second quarter was very competitive with both teams playing strong.  The biggest lead of the quarter was seven points by the Hawks.  Both teams starting units were very solid throughout on both sides of the ball.  Bojan Bogdanovic provided the spark off the bench with eight first half points.   After a very close contest, Washington came out on top with a one-point lead at halftime.  Beal led Washington with 14 points, while Schroder led Atlanta with 16.
Go Hard or Go Home
Washington came out on all cylinders with a 10-2 run to take an early nine-point lead.  After Washington went up by 11 points, the Hawks came right back with a 8-0 run to cut the lead to three.  Despite a comeback, Washington never let Atlanta take the lead.  With both teams in the zone, they had one turnover combined in the third.
Washington carried the momentum into the final quarter with a 9-4 run to start the fourth.  This led to an eight point lead for the Wizards.  However, Atalanta came right back with a 8-2 run to cut the lead to three.  The Wizards would then push the lead back to seven points, but Atlanta would not go away.  The Hawks brought the lead down to two points with just under three minutes left in the game.    With 47 seconds left in the game, John Wall hit a jumper to push the Wizards lead to four points.  After a couple missed opportunities by Atlanta, the Wizards held on for the victory by the skin of their teeth.
Beal led Washington with 27 points, three steals and three blocks.  Wall added 20 points and 14 assists.  Otto Porter, Jr. quietly had a good game with 17 points.  Bogdanovic led the bench with 14 points.  For the Hawks, Schroder led the Hawks with 29 points and 11 assists.  Paul Milsap added 21 points and 11 rebounds.