WrestleMania 33 in Orlando has Naomi written all over it!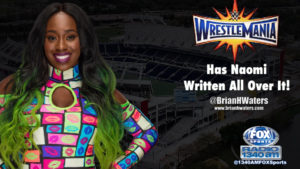 Naomi is billed from Orlando. This year's WrestleMania will be located in Orlando Florida. If you are on Twitter during WWE programing, you will see Naomi's fans also known as the #NaoMob continue to ask the WWE to push their favorite superstar. What would be better for the Naomob than to see Naomi win the WWE Smackdown Women's Championship in her hometown? Many may ask why, therefore I will give you the reason:
Naomi and Pulse Nightclub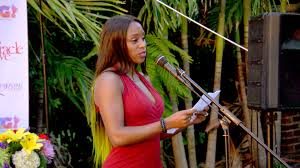 During this season of Total Divas, Naomi went back to Orlando to the Pulse nightclub where one of the nation's biggest tragedies took place to give a tribute to the victims. She talked about how this hit home for her and it was one of the places she hung out growing up in the Orlando area. Having someone of her magnitude come back and honor the victims is something that community needed.  The WWE has always been big on feel good stories and helping victims of tragedies. Putting the title on Naomi in her hometown where this tragedy happened could be an ultimate climax and shed awareness on those affected.
Loyalty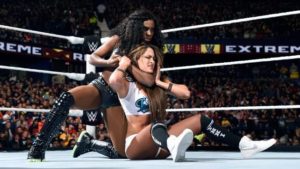 Naomi has been loyal to the WWE. It was not until recently when she was omitted from the poster where she publicly expressed her frustration. They wanted her to become a heel, she became a heel. She helped put Nikki Bella over during her record breaking Divas title run. What better way to reward her than to give her the Smackdown Women's Championship?
#NaoMob is Huge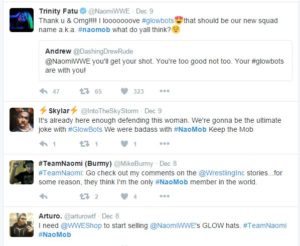 I dare you to say something negative about Naomi on Twitter. I promise you, your mentions will be LIT! Putting Naomi in the Smackdown Women's Championship will easily draw money. What would be a better sight than to see 80,000 glow sticks light up the Citrus Bowl.
Let's Book It!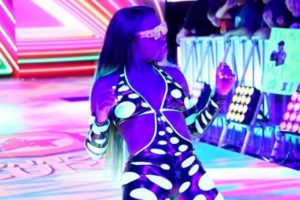 Becky Lynch defeats Alexa Bliss at Royal Rumble for the title. The rematch takes place at Elimination Chamber where Bliss regains the title from Lynch. Meanwhile there is a number one contender match. Nikki Bella vs Natalya vs Naomi vs Carmella. Naomi pins Carmella while Natalya and Nikki Bella fight each other. At WrestleMania Naomi defeats Bliss to win her first Smackdown Women's Championship
Final Thoughts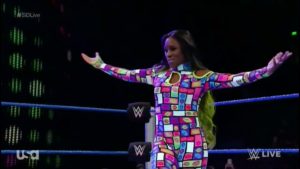 I am and never will be a booker/ producer for the WWE. But we play video games, so why not put it on paper. We have been watching wrestling long enough to know that everyone loses in their hometown. Let's change things this year. It is also a lost art of winning your first world title at WrestleMania. Seth Rollins was the first to do so at WrestleMania 31 since Rey Mysterio Jr at WrestleMania 22.