On Thursday, No.4 seed West Virginia Mountaineers will square off against No. 13 seed Bucknell Bison in Buffalo, New York.
For the third year in a row, the Bison were crowned regular-season champions in the patriot league. However, for the first time since 2013, they're going dancing.
Bob Huggins is making his seventh appearance as the Mountaineer's head coach. Last year the Mountaineers lost to S.F. Austin in the round of 64, and Senior forward Nathan Adrian said, "we can't look past our opponent, which honestly, we did a little bit last year". The last time the Mountaineers started their dance in Buffalo, they made it to the final four. "I like Buffalo, it was good to us last time" said Huggins.
The Mountaineers
West Virginia is coming off a heartbreaking loss in the Big 12 final for the second year in a row. With their never ending press, the Mountaineers leads the nation in steals (10.4 per game) and forced turnovers (20.4). Their defense is an NCAA top five as well. Making this team a serious threat to all teams in the tournament. There is not another team in the country that presses their opponent for 40 straight minutes of basketball.
Led by junior guard Jevon Carter (13.1 ppg, 3.9 apg) and boasting a depth unlike any other team in the country with ten players averaging over 11 minutes a game. This team will ware their opponents out, but will not ware out themselves.
The Bison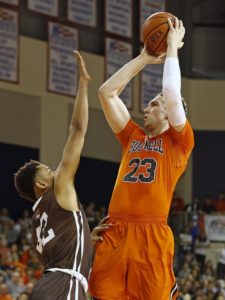 This is Bucknell's first appearance in the NCAA tournament since 2013 where they were an eleven seed and lost to six seeded Butler (56-68). Led by junior guard Zach Thomas (16 ppg) the Bison are 11-3 in games where they are the underdog. As 14 point underdogs, the Mountaineers cannot afford to look past this Bison team.
The Bison are coming off a six game win streak. During the season, they've beat other tournament contenders such as Vanderbilt and Mount Saint Mary's, and had close games with contenders such as Princeton and Butler. The winner of this game will go on to face the winner of fifth seed Notre Dame and twelfth seed Princeton on Saturday.