Hip-Hop and basketball go hand-in-hand and it has been that way for quite some time now. Many fans wonder what their favorite athletes listen to as they warm up and get focused for a game. If you had access to Minnesota Timberwolves' guard, Zach Lavine's playlist. You can be sure one rapper's catalog of music is in there, and his name is Montana of 300. Montana is from Chicago, Illinois and he's most notably known for his uses of metaphors in his rap-style and the remixes he makes on some very popular songs such as "Chiraq" and "Panda." His latest album, Fire in the Church, was the number two Hip-Hop album on iTunes within the first three hours of release. Lavine and Montana met the way most people do nowadays, via social media. From there a friendship would blossom and two would find themselves texting and exchange funny memes. Montana would then ask to bring his eight-year-old son, Tony Bradford, who plays basketball as well to a Timberwolves game when they hosted the New York Knicks. Lavine not only agreed but gave Bradford the best fan experience any kid could as for.
The Surprise

: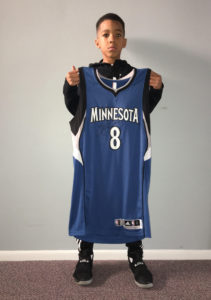 Bradford was unaware as to why his dad was bringing him to Minneapolis on a school day. They would wake up early in the morning to catch a flight at  6am out of Chicago to head to Minnesota. Later that afternoon, Bradford would find himself downstairs with his dad in the hotel lobby. Lavine's personal assistant would arrive and present him with his jersey. Bradford would stand there with a huge smile holding the jersey up in amazement. He could not believe he had the two-time dunking competition champion's jersey in his hands and he was amazed at how big the jersey was. Montana and Bradford would be escorted to the arena before the general public arrived to watch Lavine warm-up. They would sit baseline and then it happened.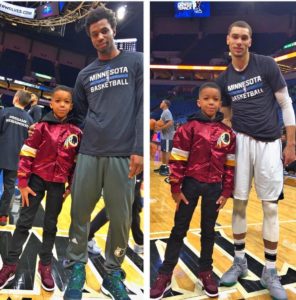 Lavine would walk out of the tunnel and meet Montana and his son Bradford. Bradford, eyes were wide and could not believe this was happening. He was asked how did he feel about this experience and all he could come up with is two words, "good" and  "happy." Lavine would then proceed to the court and take his shots as Andrew Wiggins would come by. Wiggins would stop and say hello to Montana and Bradford and take pictures with them. His facial expression said it all, as he overcomes with joy. Lavine was done warming up and would talk with Bradford for a bit. Then he would sign the jersey he gave Bradford and take pictures with Bradford and his dad. Lavine told him to continue practicing and doing well in school so he too could one day make it to the NBA.
Moments like these are priceless, and Montana would be the first to tell you that using his platform to not only to inspire his fans with his lyrics but to also provide a lifestyle and opportunities for his son, that he himself only dreamed up. Montana is not flashy at all. You wouldn't see him with big chains and ride around in cars with 28-inch rims. Montana would rather give his son an experience such as this, versus going to the Mall of America and dropping bands to flex.
"It was important for me to take him to the game because I felt like it was the ultimate motivation for him," said Montana, then he went on to say "Plus I love sharing my blessings and I love to surrounding myself with people I love. I couldn't think of anybody more fit who would appreciate the experience more than him."
Lavine gave Bradford and his dad Montana the red carpet experience that was one of a kind. Something you hear basketball players talk about all the time when they met one of their favorite athletes and for that, Montana is very grateful.
"I'm very appreciative. He (Lavine) knows" said Montana, then he added, "I told Zach I used to dream of something like that as a kid." So for me to be given the opportunity to surprise my son with an experience like that is a true blessing…unforgettable."
Montana hopes that his son Bradford learns that "it's possible" to make it to the league. He also echoed Lavine's words of encouragements to his son by saying Bradford must understand he has to keep working hard to get there . As the game was winding down, Bradford was so inspired, he wanted to know where the nearest gym. Lavine had to get treatment and prepare for the next game, however, if it was up to Tony, they would've gone to the Timberwolves practice facility and he and Lavine would have done some drills. Perhaps, that'll happen during the offseason and Montana is hoping to put his son in a future Lavine basketball camp. Now, Bradford's back in Illinois looking for a frame to put his newly autographed Lavine jersey in. Maybe one day in the future, Bradford will be committing to a college and telling the world about November 30th, a day he will never forget.