2018 Watkins Award standard-bearer takes trophy home to Chicago
Every year there's celebration of the nations top African-American student-athletes, and this past weekend that tradition continued.
CRYSTAL CITY, VA.- The National Alliance of African American Athletes (NAAAA) hosted the 27th annual Watkins Award Gala to honor four finalists, and to make one the standard bearer for the 2018 year. Though this award may lack the big spotlight that others receive, it's meaning and brotherhood make it next to none. Joining a family with the likes of Jameis Winston, Ted Ginn Jr, and other big name athletes makes it a privilege to call yourself a Watkins man.
The four finalists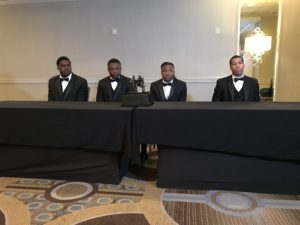 Mataeo Durant – Plum Branch, South Carolina. McCormick High School; 4.8 GPA. Hardy Foundation recipient. South Carolina Regional Player of the Year and three time South Carolina All-State player. Was a member of National Beta Club, Fellowship of Christian Athletes, Palmetto All-Star team, Blue Grey Classic All-Star team, and Georgia-South Carolina Border All-Star team. College Commit: Duke 
Quincy Patterson II – Chicago, Illinois. Eric Solorio Academy; 4.8 GPA. Volunteer for mentally disabled, mentor to young quarterbacks in Chicago area, volunteer for Winter Shovel Service for elderly, and tutor to Chicago Elementary School students. Texas Blue Grey Bowl All-Star, New Orleans ODA All-Star, Chicago All City, Illinois MVP, Elite 11, and Nationals Elite 11 Quarterback. College Commit: Virginia Tech
Nick Petit-Frere – Tampa, Florida. Berkeley Preparatory School; 3.8 GPA. EC Smith Award winner for Volunteerism. US Army National Scholar recipient. Volunteer for local retirement homes, neighborhood food drive, and painting low-income schools in Boston, Massachusetts. Youth mentor and tutor. Hillsborough County First Team All-American (two years), #1 Player Spectrum Sports, First Team Big Country Preps, Top 100 Tampa Bay Area Football player of the Year, MaxPrep All-American, MaxPrep All-State, and Under Armour Football All-American. College Commit: Ohio State
Shayne Simon – West Orange, New Jersey. Saint Peters Prep High School; 4.0 GPA. Joi's Angels Homeless Shelter volunteer, Jersey City Boys Club Youth Mentor, Saint Ann's volunteer for the elderly, and Perk Homeless Shelter volunteer. Hudson Reporter Defensive Player of the Year, First Team All-Area player, First-Team All-New Jersey player, Butkus Award Finalist, New Jersey Super Football Conference First-Team player, New Jersey First Team All-State player, and Army All-American. College Commit: Notre Dame 
Before the dinner and awards ceremony, the young men had the chance to answer a few questions for the press and they did not disappoint. Articulate and wise in their responses, you could tell they were all perfect for such a prestigious honor. From role models to social justice issues, every answer was correct. Indicative from the press release, it was clear that each of the finalist were deeply involved in the community so I took the liberty of asking them how they find the time while maintaining a stellar academic report and focusing on football:
After answering a few more questions regarding college, the Watkins program, and life in general, it was time for the dinner/awards. Among those to give wise words to the young men and everyone in attendance were: Everette Pearsall (Executive Director of NAAAA), Jan Adams (President/CEO of JMA Solutions), Justin Tinsley (ESPN's The Undefeated), and Dr. Alexander Gabbin (Watkins Award Chairman). The overall tone was exceptional, a feeling of "this is the standard." Quite often in the news or on the internet, young black men are highlighted in reference to gangs, violence, drugs, and quiet honestly nothing good. This event was the complete opposite and it was ever so refreshing. Young black men that are clothed in academic honors and athletic abilities that make them a no-brainer for any college/university.
When Dr. Gabbin took the stage it was time for the winner/standard bearer to be announced. Unconventionally, he asked all previous Watkins men to come to the front of the room and do something spectacular before the bearer was announced. Lined up from one end of the ballroom to the other, the phenomenal black men stated their name and GPA's.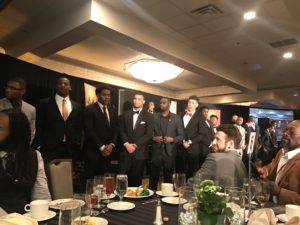 Nothing lower than a 3.44; the crowd roared in appreciation and fascination at the brilliance before them. Remaining at the front of the room, the Watkins Award was passed down the line from one brother to the next until it was in the hands of the 2018 standard bearer. Quincy Patterson II received the award and got to take the trophy back home to Chicago, but all of the gentlemen were winners. The term "standard bearer" was picked for that exact reason to let the others know that just because you aren't hoisting the trophy does not mean you are not a champion.
A night to remember for everyone in attendance, and an extension of brotherhood for all of the finalist that can now call themselves a Watkins man.
Follow Sydnee on Twitter @sydneeW_
(Photo Credit: Virginia Tech Athletics)