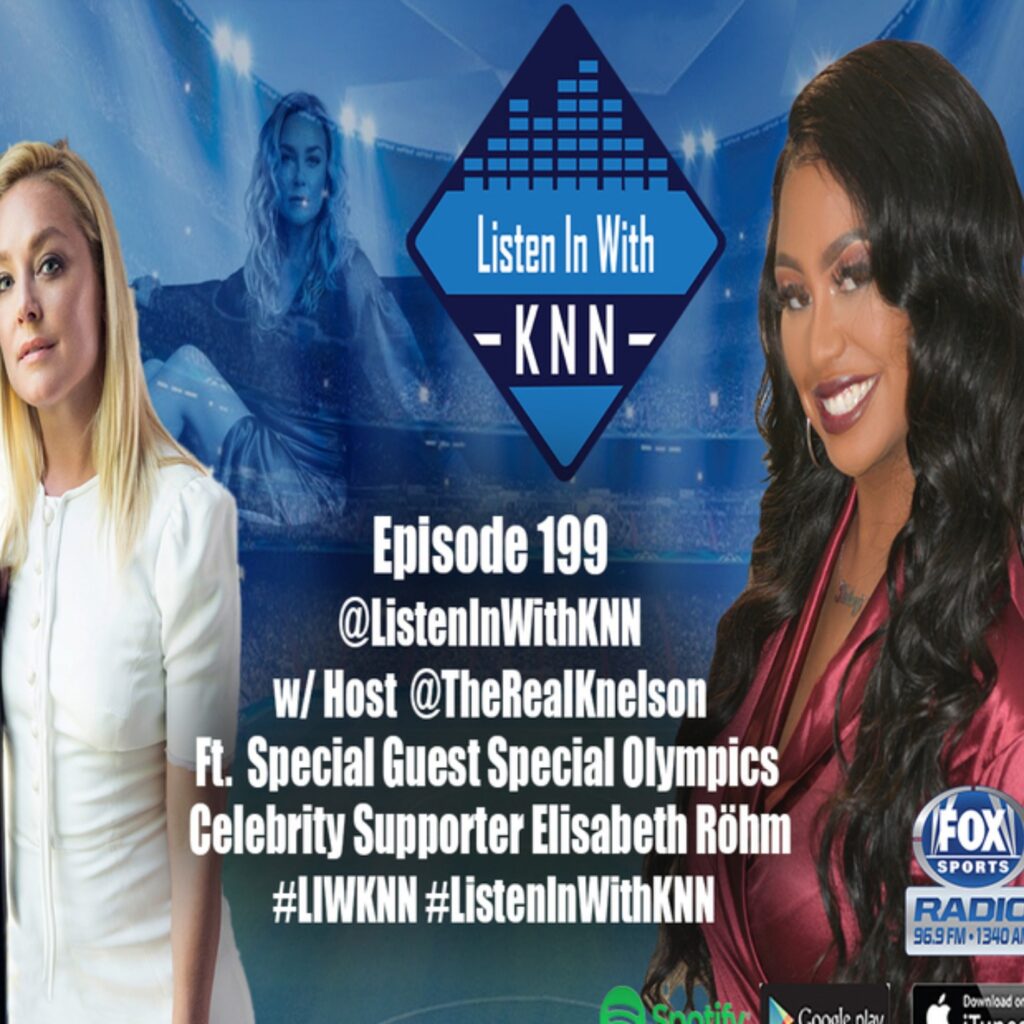 On episode 199 of "Listen In With KNN," sports talk radio/podcast show presented by FOX Sports Radio 1340AM/96.9 FM, executive producer and host Kelsey Nicole Nelson welcomed Elisabeth Röhm to the show. Röhm is a Special Olympics celebrity supporter and alum of the hit series, Law & Order. Röhm is also a newlywed and mom to Easton August. When Röhm is not acting or directing, she is using her platform to help continue the fight for global inclusivity and spread awareness of the inclusion movement for all. 
Special Olympics is the global leader in promoting inclusive health services for those with intellectual disabilities (ID). "Special Olympics health's work improves fitness and health for athletes. Over 158,00 athletes are in the organization's fitness programming," said Röhm.
Special Olympic studies show that those who have high blood pressure have had a decrease in their blood pressure after receiving these fitness programming services. In fact, one in five of those with high blood pressure get to average levels with the dedicated fitness programming that can add two years to your life. "People with ID [intellectual disabilities] have higher health risks and there's a deep need," Röhm said. It is proven that when people with ID have access to quality health services, they also have more opportunities for education, employment, sports, and other pathways to full participation in society. 
Tom Golisano, founder of Paychex and philanthropist, gave a gift of $30 million to Special Olympics. The gift was announced on September 16th of this year. Golisano is the father of a son with ID. "It's the largest single private gift in the organization's 53-year history and it's going to do a lot of great work," said Röhm.
This $30 million dollar gift will help Special Olympics achieve important priorities over the next five years. This includes the nonprofit's aim to provide three million health screenings for athletes in over 100 countries. "It's going to improve and help the overall health and fitness of 600,000 athletes," said Röhm.
Other priorities include reaching 650,000 young children with ID and their families so they can walk, run, skip and play earlier in life. It will also help to create the first Golisano Virtual University to provide training to 100,000 more health care professionals, enabling them to treat people with ID. 
People with ID are often denied health care services and may die 16-20 years before others which is why this gift is extremely important for those who Special Olympics serves. "This type of gift that Tom Golisano made is not only kind and important, but it's necessary," Röhm said.
 Nelson asked Röhm her inspiration behind her work with Special Olympics. "I just always had a big draw to the organization. Not only because I know the lack of inclusion, but the work Special Olympics does is so massive," said Röhm.
Röhm also added, "You don't have to have a family member or a personal connection to the organization…I'm inspired to be involved because it feels absolutely necessary."
Röhm admires and looks up to Special Olympics athletes because of their resilience and fighting spirit. "You've never seen anybody like these athletes. Nothing is going to get in their way. Nothing is going to stop them, they've already had to overcome so many obstacles in their life personally," said Röhm.
A lesson that Röhm has learned from Special Olympics athletes is that she too can overcome any obstacles she faces. "Spending time with the athletes and their spirit of overcoming adversity with passion and resilience and a sense of community, I've really learned how to be a better human being, how to overcome adversity in my life…there's nothing that can stop you," Röhm said.
Some upcoming projects for Röhm include directing movies for Netflix and Lifetime.  She's also continuing to work with The RESPECT Project which she founded. You can also expect to catch Röhm at the upcoming Berlin 2023 Special Olympic games. In anticipation of the Games, Röhm said "I'm really looking forward to celebrating on a global scale."
"We all have the right to live happy, live freely, live equally," said Röhm.
To hear more of Nelson and Röhm's conversation check out the full episode below. You can follow Röhm on Instagram, Twitter, and Facebook!