Nationals and Reds faced off in game two of the opening series and as Dave Martinez would have it, there was another change in the lineup.
No Ryan Zimmerman and no Michael Taylor. On Friday's victory, Zimmerman went 0-4 and Taylor 2-4 but that had nothing to do with the new game plan. Zimmerman did not appear in any of the spring training games and everyone speculated if it were due to an undisclosed injury, so naturally the suspicions were back. Martinez expressed to the media that Taylor and Zimmerman were perfectly fine, he just wants to keep the bench involved. A decision he had made in advance. The lineup for today's game:
Adam Eaton LF
Anthony Rendon 3B
Bryce Harper RF
Matt Adams 1B
Howie Kendrick 2B
Trea Turner SS
Brian Goodwin CF
Matt Wieters C
Stephen Strasburg P
Brian Goodwin and Matt Adams took the starting roles as the only changes in today's lineup.
The three-time All Star and second ace of the Nationals pitching rotation, Stephen Strasburg, took the mound. While he was not as dominant as Max Scherzer, he still fared well in this game. Everything went perfectly up until the middle innings. He had a troublesome time in the sixth, when he had the bases loaded twice but managed to only give up two runs in that segment. A hit by Scooter Gennett to drive in a run and a sacrifice fly by Adam Duvall to do the same. In the seventh, it was another rough go round for Strasburg and he did not finish the inning.
With the bases loaded more than once for the second time, Dave Martinez made his first big time decision as manager of a big-league club. Martinez placed right-handed reliever Sammy Solis in the game and he got a huge strikeout on Joey Votto and made quick work of Gennett to follow. No runs were given up in the inning, despite the adversity, which is a positive sign pertaining to poise on this pitching staff.
The return of Adam Eaton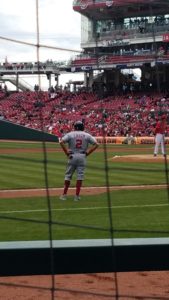 It was a productive day for the Nationals bats, but for especially for center fielder Adam Eaton in particular. After coming back from a gruesome ACL injury, it was all speculation if he would bounce back to the player he was before of become a mere figment of himself. After a terrific day yesterday, he continued his torrid pace and nearly hit for the cycle, registering hits in all innings but four. He was taken out in the bottom of the eighth – Goodwin assuming his position and Taylor moving to center – as a precaution for his health. It's a good possibility that after two fantastic days of hitting he could get the day off tomorrow.
To put icing on the Nationals fantastic day at the plate, Brian Goodwin hit a grand slam at the top of the ninth to give them a total of 13 runs. The team put on hitting clinic and got the victory, also getting Strasburg his first win on the season. The Nationals won the game 13-7 and are 2-0 on the young season. If they win tomorrow, they sweep the opening series.
Game Notes:
Strasburg gave up 8 hits on 99 pitches in 6.1 innings pitched; got his first win on the season.
Matt Adams crushed a home run as his first hit as a Washington National
Adam Eaton goes 5-5 for the first time in his career
Trea Turner registered his first hit with a home run in the fourth inning
Zimmerman and Taylor made appearances in the eighth inning. Taylor came in to play center for Goodwin and Zimmerman had a pinch-hitting at bat that resulted in a hit-by-pitch. Wilmer Difo also showed in the ninth (every bench player excluding catcher Miguel Montero played).
Brian Goodwin went 2-5 with a grand slam
Next game time is April 1 at 4:10 pm vs Reds.
More predictions and analysis at Doc's Sports.
Follow Sydnee on Twitter @sydneeW_
(Photo Credit: David Kohl-USA TODAY Sports)