Opening with two straight losses wasn't ideal for the Washington Wizards after All-Star Break. Their upcoming schedule is taxing. This they know, and if they didn't the media told them every chance they could. Golden State would be the opponent they would have to bounce back against. John Wall would come into the match-up not feeling his best. As he's dealing with an on-going cold. In addition, the Warriors came into this game winning their last six out of seven games. So, odds started out in the favor of Golden State.  If the Wizards are contenders then this would be the prime opportunity to prove themselves. They did just that by defeating the defending Western Conference Champions, 112-108.
Defense equals Wins:
In the loss to Philadelphia, Wall said, "We didn't play defense worth a sh!t." Accurate. Fast-forward to last night, and the Wizards' defense was superior to Golden State's. They held the Warriors to 26 points and scored 40 points themselves. Yes, Golden State would then outscore the Wizards in both the second and third quarters. Making this game go down to the wire after being tied to start the fourth. However, it was that stretch of defense and offense going at the same time that set the tone for the Wizards in this game. This same team that can lose to the 76ers and beat Golden State in the same week can still leave Head Coach Scott Brooks surprised at times.
"We've been really playing some good basketball," Brooks said. "Take away right after break. It's our defense. We're scoring off of our defense, we're moving, we're making extra [passes]. We had 29 assists tonight."
Of those 29 assists, John Wall had 19 of them. Wall did struggle from the field shooting roughly 30% and chiming in 12 points, which was still a double-double. All Wizards' starters were in double figures and was led by Bradley Beal. Beal finished the night with 25 points, shooting 8 for 17 from the field. Markieff Morris was perfect from the free-throw line late in the game. His confidence from the stripe came from an unusual place.
"I don't want to jinx myself," Morris said when asked about his clutch free-throws. "Umm but my wife tells me all the time, I got big nuts. So my nuts were on the line."
Perhaps that was a little more than we needed to know. Nonetheless, Morris would finish the night with 22 points shooting about 47% from the field.
The Bench Showed Up: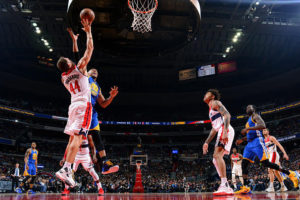 Prior to the trade deadline, the Wizards wanted to improve their bench play. They did that by adding 6'8 shooting guard/forward, Bogan Bogdanovic from the Brooklyn Nets. He would add 16 points in 24 minutes shooting 41% from the field and was 3-6 from downtown. The newly acquired Wizard seemed to have made himself comfortable already with his teammates.
"When you play with those guys that are All-Star players, it's easy to adjust and easy to give your impact to a game," Bodganovic said.
The bench combined 27 points, though the Warriors' second unit still outscored them. The most noteworthy thing from box sheet was point guard Trey Burke received a DNP, coach's decision. It was reported by The Vertical that the Wizards will sign Brandon Jennings, who was recently waived by the New York Knicks. With the addition of Jennings, leaving the question; where does Trey Burke fit in with the future of the Wizards?
Kevin Durant's Injury:
Seat Pleasant, MD native, Kevin Durant, returned home to The District. This time wearing a Warriors' jersey. However, locals didn't get a chance to see much of him as he left the game and didn't return early in the first quarter. Today, it was announced by the Warriors' Public Relations Department that Durant is out indefinitely.  Some reports are that Golden State is indeed signing Matt Barnes, which could be telling of how severe Durant's injury really is.
On to the North then back to The District:
Not that the Wizards are celebrating, because it would be pointless if they were. They must continue this momentum vs. a different Toronto team. Recently, the Raptors announced that Kyle Lowry is out indefinitely and this leaves DeMar DeRozan without his best friend and point guard. It's worth mentioning that in the Eastern Conference standings, the Wizards and Raptors are less than a game apart for third and fourth place. Toronto leads the series between the two, 1-0. These teams will play tonight and then again for a final time this regular season in Washington on Friday. It is necessary for the Wizards to take advantaged of this wounded team and sweep them this week and create space in the standings. Tip-off for that game with be at 7:30 and can be seen on CSN Mid-Atlantic.