Antonio Brown, the NFL Will Make Another Rule Change
The Pittsburgh Steelers will face the New England Patriots in the AFC title game. After the game, the team celebrated in the locker room, and star wide receiver, Antonio Brown recorded everything on Facebook Live, including what coach Mike Tomlin had to say about the Patriots. Until yesterday, there has not been any written rules that Brown violated.
The current social media policy is as follows: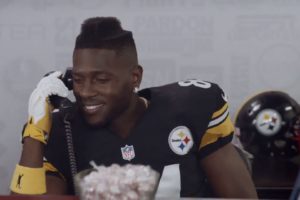 What Antonio Brown recorded
"When you get to this point in the journey, man, not a lot needs to be said, Let's say very little moving forward. Let's start our preparations. We just spotted these a–h—- a day and a half. They played yesterday. Our game got moved to tonight. We're going to touch down at 4 o'clock in the f—ing morning. So be it. We'll be ready for their a–. But you ain't got to tell them we're coming.
"Keep a low profile, and let's get ready to ball like this up again here in a few days and be right back at it. That's our story."
"Let's say very little."
"Keep a low profile."
Another person in the video, "keep it cool on social media."
Many would say, he exposed his coach and gave the Patriots more bulletin board material. The smart thing would have been to cut off the stream as soon as Coach Tomlin started talking, but clearly Brown was caught up in the moment as he looks to get ready for the AFC Championship game.
Former Steelers Safety Ryan Clark says, "Coach Tomlin does not like to give anyone, especially the media a "window into his soul."
Moving Forward
This is a new issue. Antonio Brown will force the league to revisit their locker room streaming policy with its players. The NFL's players have colorful personalities and with social media changing everyday, they are responsible for staying on top of the latest gadgets. So when the 2017 season starts, we can add, NO FACEBOOK LIVE to the list. Thank Antonio Brown.