The Baltimore Orioles are stuck in between a rock and a hard place in regards to possibly re-signing third baseman Manny Machado.
Machado is currently under a 1-year, $11.5 mill0ion deal (arbitration), that was signed previous to this season. After this season he will be eligible for arbitration once again. Then before the 2019 season, Machado becomes a free agent.
He has been one of the most prolific young players in Major League Baseball. Through the course of his first four seasons with Baltimore, he has a slash line of .280/.332/.474, tallying 336 RBI and amassing 115 home runs. With numbers like those, he will be highly coveted when he becomes a free agent.
The biggest obstacle that lies ahead of the Orioles is their ability to re-sign him. Some outlets believe that Machado will receive upwards of $400 million dollars. Due to previously made personnel decisions, Baltimore may be in danger of losing Machado in free agency.
Just less than two years ago, Orioles first baseman Chris Davis signed the most lucrative deal of club history, worth $162 million over the course of seven seasons. During that same offseason, the Orioles brought back reliever Darren O'Day on a 4-year/$31 million. Baltimore also would re-sign designated hitter Mark Trumbo to a 3-year/$37.5 million deal this past offseason.
Before they even consider re-signing Machado, they have to deal with pitcher Chris Tillman's situation. He becomes a free agent after this season. To make matters even more complicated, star closing pitcher Zach Britton becomes a free agent along with Machado.
Option 1: Trade Machado
This option is probably the most intelligent move for Baltimore to go with. If they move Machado in a trade, the return will be astronomically high. To be able to receive a once in a generation talent at third base, like Machado, would give the receiving team the largest boost ever. For the team receiving Machado, they will have to give up a few of their top prospects.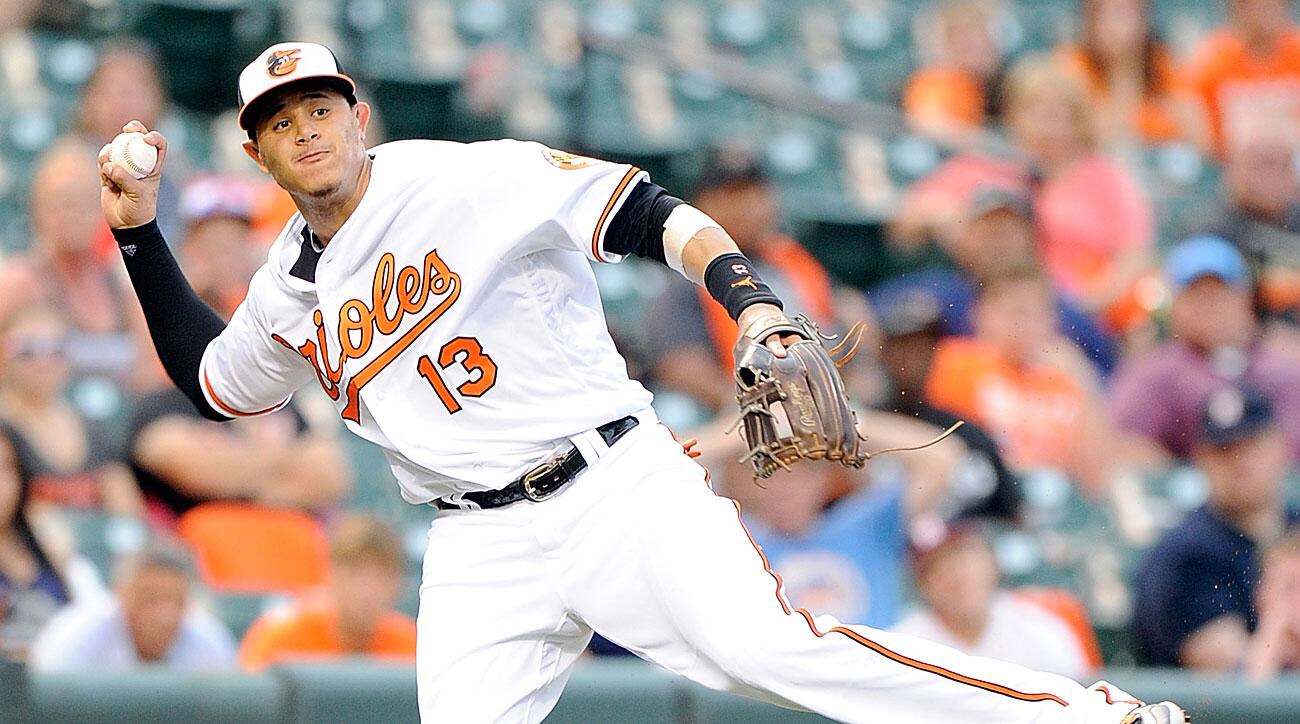 Although Baltimore may not have Machado at the hot corner in this scenario, they will have many other players in the fold for the time being. Davis, Trumbo, Adam Jones, Jonathan Scoop, Dylan Bundy and a few others will still be around to anchor the team. This will allow them to stay competitive until the cavalry arrives.
Option 2: Re-Sign Machado
For this particular option, the Orioles may need to do a salary dump of epic proportions. It could include somehow moving Davis, or not re-signing other players. But in this situation, Baltimore would have to pony up a huge chunk of cash.
As stated before, Machado could possibly net $400 million in free agency. Is Baltimore willing to give all of that money to one player, when they'll have another group of free agents on the team currently? Putting all of their money into one player wouldn't help the team grow, but they'd be able to keep their best player.
Option 3: Let Machado Walk in Free Agency
This is the move that many fans are dreading. Are they willing to let Machado walk in free agency for just a compensatory pick or two? This is a problem that seems to be coming for Baltimore. Without having any notable contract negotiations with their third baseman, it seems that this scene is inevitable.
Fox Sports' Ken Rosenthal weighed in on the circumstances of Machado's impeding free agency back in April:
As far as negotiations, there is no latest. But so much could happen over the next two years. The Orioles could trade Machado. That's one possibility, but it's unlikely given that they intend to compete and it's unlikely they could get fair value in return.

Machado also could return to shortstop if the Orioles decline to pick up J.J. Hardy's option at the end of the season. That, too, is not something that you really could say for sure is going to happen, either, so they're waiting to see what it's going to be with Manny. But even if he returns to short, it's unlikely he could be as dominant defensively there as he is at third base.
All options must be considered before making a decision that could help or haunt Baltimore's franchise for the time to come.
(April 23, 2017 -Picture Source: Matt Hazlett/Getty Images North America)