The old adage goes: "The Baltimore Orioles will only go as far as their pitching takes them." At the forefront of that is Kevin Gausman, Baltimore's second-longest tenured starter.
The right-handed Gausman, 27, has had electric stuff since he was called up to Baltimore in 2013. The Aurora, CO native has a fastball that reaches the high-90's on numerous occasions, a splitter that fades to the right, as well as a slider with 12-6 movement. Not many pitchers have the type of movement and power combo that Gausman has. However, the issue with Gausman has been keeping men off base.
In 2017, Gausman allowed the most walks of his career (71) and had his highest ERA since his rookie season (4.68 in 2017). Often times, his pitches would escape from him, allowing more men on base, which would cause for him to give up more runs on line drives and softly hit grounders.
In the first half of the 2017 season, Gausman wasn't his usual self. He pitched 97 innings with a 5.85 ERA, with batters slashing .317/.387/.480 against him. Fortunately for him, he settled down mightily in the second half of the season with a 3.41 ERA in 89.2 innings, with batters slashing .238/.301/.434 against him.
One thing that worked extremely well for Gausman was his splitter. In 177 at-bats against Gausman, hitters only batted .203 against his splitter. His four-seam fastball (.303) and slider (.329) were crushed and he rarely used his changeup, only opting to use it in two at-bats in 2017.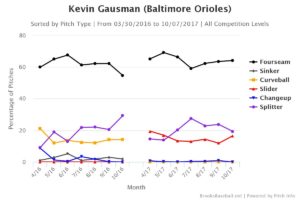 In past years, Gausman has thrown a sinker and it worked well for him in 2016, but he opted against using it last season. Though he only used the pitch in 10 plate appearances in 2016, he held hitters to a .200 batting average.
In the chart to the right, Gausman used his slider much less in 2016, opting to stick with his splitter (.196 batting average). That same year, Baltimore went to the playoffs. In both 2014 and 2016, years in which he had a 3.57 and 3.61 respectively, the Orioles went to the postseason.
He has the ability to be consistently successful and this off-season, he took the steps to go become more consistent. He will now re-employ his sinker, according to The Baltimore Sun's Eduardo Encina. If Gausman increases the usage of his sinker and splitter, he will be able to generate more groundballs and keep men off of the base. It all banks on the control that he has over these pitches. How refined has he become in his pitch selection? That is something that will be found out this season.