This Sunday, WWE will present Battleground right before the biggest party of the SummerSlam. Battleground has a chance to be a great pay-per-view. However, the build up has been terrible though. Here are my overall thoughts on this card as well as my predictions.
Tye Dillinger vs Aiden English kick off
It is great to finally see Tye Dillinger to be used in some capacity. It's a shame that Dillinger has been lost in the shuffle. Dillinger will pick up the win against Aiden English and it will be a perfect way to kick off Battleground.
Mike Kanellis vs. Sami Zayn
Mike and Maria Kanellis made their WWE debut on Money in the Bank pay-per-view. The couple displayed their love for each other with the power of love. However, they were rudely interrupted by Sami Zayn.
Every time the couple has wanted to show their love for each other Sami Zayn always got in their way. Even though Sami Zayn apologized to the loving couple twice it wasn't good enough. Mike and Maria finally got their revenge on him as she slapped Zayn backstage which was followed by Mike smashing a vase over Zayn's back.
Zayn attempted to get revenge as he took on Mike on his SmackDown debut. However, Zayn was unsuccessful as Mike got a win due to a distraction from his wife. Mike will continue his momentum as he will get a win this Sunday.
Charlotte Flair vs. Becky Lynch vs. Natalya vs. Tamina vs. Lana (Five-Way Elimination Match to determine Naomi's opponent at SummerSlam)
The women division has been very competitive. All five woman are chasing Noami for a chance at the SmackDown Women Championship. It is will be a very intriguing match because it will be a toss-up who wins this match. Charlotte should win this match but it wouldn't surprise me if Tamina would pull the upset.
Baron Corbin vs. Shinsuke Nakamura
Corbin and Nakamura have had an interesting feud dating back to Money In Bank pay-per-view. The Lone Wolf gave a sneak attack on Nakamura from behind during his entrance. These two went back and forth against each other they had multiple tag team matches. They will finally meet one on one on pay-per-view. Nakamura will get a big win over Baron Corbin.
SmackDown Tag Team Championship
The New Day vs. The Usos
The New Day and the Usos have incredible chemistry and it shows in the ring. They have had numerous singles matches against each other. A couple of weeks ago, they had one of the best segments on SmackDown Live with the rap battle. The last time these two teams met for the gold was at Money In The Bank pay-per-view. Usos were able to retain their gold via count out as smart heels doing anything it takes to keep their gold.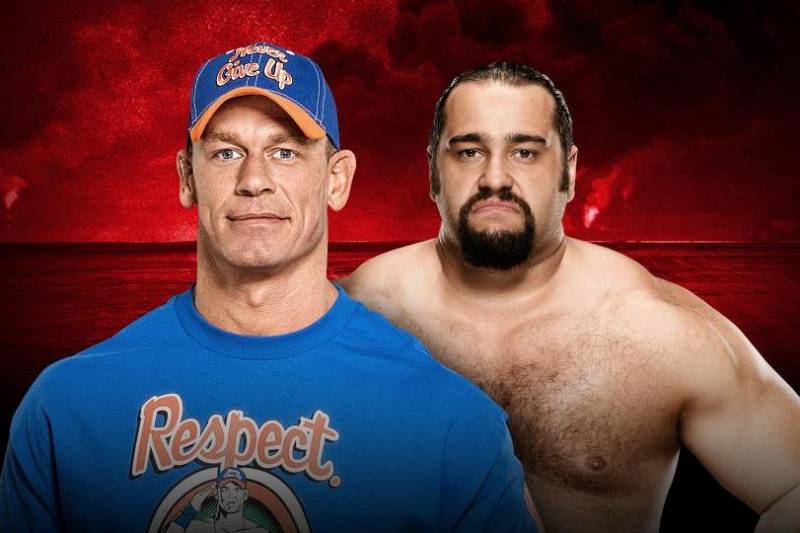 Flag match
John Cena vs. Rusev
At Battleground, fans will see the return of the 16-time World Champion John Cena, and The Bulgarian Brute Rusev as he is returning from injury. These two familiar rivals will meet in a flag match. Now, this match only had two weeks of build up it has been alright. There is absolutely no way that Cena will lose in his return.
United States Championship
Kevin Owens vs. AJ Styles
A highly anticipated rematch will take place at Battleground for the US Championship. Kevin Owens will look to regain his United States Championship.Kevin proclaimed himself as the new face American. Recently AJ Styles earned his opportunity to be crowned the new one contender for the US Championship. He outlasted the SmackDown roster in an independence day battle royal.
AJ Styles didn't waste any time getting his rematch at the United States Championship in the world's famous area Madison Square Garden. AJ Styles shocked the world and the fans at a house show.This Sunday it will be a compelling match up between two of the very best in the company. Styles will successfully retain his US Championship.

WWE Championship
Punjabi Prison Match
Randy Orton vs. Jinder Mahal
Orton will have his third opportunity at the WWE Championship. However, this time it will be the return of the Punjabi Prison match.
Background
The Punjabi Prison match was introduced back at No Mercy pay-per-view in 2007. At the time Great Khali took on the Undertaker.
Structure
It consists of two large steel-reinforced bamboo cages. The first is four-sided and stands 16 feet tall, while the second has eight sides and stands 20 feet tall surrounds the first.The inner cage has a four-foot doors on each of its sides, there is a referee standing by to open them at a wrestler's request.
Rules
Each door may only be opened once and is only allowed to remain open for sixty seconds, after which it is padlocked. Once all four doors end up locked before the wrestlers escape, they are forced to climb out over the top. Once a wrestler has escaped the first cage, he must climb over and out of the second cage, with the first wrestler having both of their feet touch the arena floor is the winner of the match.
This feud has been very lackluster and after this match, it will be over. The Modern Day Maharaja Jinder Mahal will retain his WWE Championship over the Viper Randy Orton. However, my gut feeling is that Corbin might cash in and win the WWE Championship. That being said he should wait and cash it in at SummerSlam instead.
Photos courtesy via WWE and Bleacher Report
Follow @Nino_416 on Twitter