Big Games, Big Baby, and BIG3 Shine in Rhode Island Stop (Photos)
The BIG3 rolled into Providence, Rhode Island for week four following a mid-week shakeup. On Wednesday, the league announced the deactivation of several BIG3 players. Effective immediately, Lamar Odom, Baron Davis, Jermaine O'Neal, and Bonzi Wells were deactivated for the remainder of the 2019 season. None of the aforementioned players had played a game all season due to injuries and other health concerns. Dahntay Jones was activated for 3's Company, replacing Davis.
Fresh off their first losses on the season, both Power and the Ghost Ballers came to Providence with the intent to get back into the win column. The defending 2018 champion Power got a boost from the return of reigning MVP Corey Maggette and also had the services of Glen "Big Baby" Davis after the league rescinded his intended suspension from last week's ejection. However, Cuttino Mobley was out with a calf injury suffered in last week's loss to Trilogy and Chris "Birdman" Anderson went out in the first half as he landed awkwardly. Power coach Nancy Lieberman said after the game that Anderson will have an MRI done Sunday in Denver. The Ghost Ballers, coming off a loss to the Enemies in Birmingham, struck early and took a lead into halftime courtesy of a 4-point shot by Alex Scales.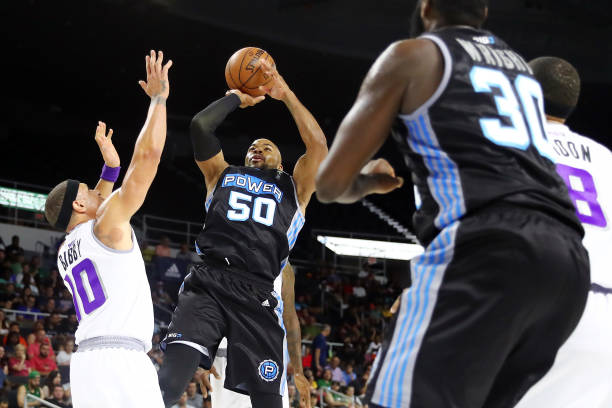 Power surged back in the second half as Maggette turned in a performance that reminded everyone why he was last season's MVP. Playing 28 minutes, Maggette finished with 23 points on 8 of 16 shooting and pulled down 15 rebounds. The Ghost Ballers went cold, with 2018 league scoring champ Ricky Davis held to 10 points. The team shot 36% from the floor in the second half. Glen Davis, a former star for the Boston Celtics, was a fan favorite and it was fitting that he hit the game-winner. Following his ejection in Atlanta, the league decided to let Davis play and fined him instead of suspending him for one game. It is a decision that Davis is grateful for.
"I just try to play the game with a lot of energy, a lot of emotion, you know. We (Lieberman) relate a lot that way. We want to win and we're passionate about the game and serious about what happens out there so you know it's a pleasure to be with Ms. Nancy and I just want to be able to play the game at a high level and continue to play.
Just to be here in this atmosphere and be able to play, you know, I was sad last week. I thought because of what I did that I wasn't going to be able to play in the town that I've played a long time being with the Celtics. But it's good to be here and I appreciate the BIG3 for letting me come out here and I appreciate Nancy being my coach and always holding me accountable and making sure that I'm locked in and on the floor."
Davis finished with 4 points and 4 assists in 19 minutes as Power outlasted the Ghost Ballers 50-32 to move to 3-1 on the season. They face the undefeated Triplets next Saturday in Kansas City while the Ghost Ballers travel to Oklahoma City to face the Aliens.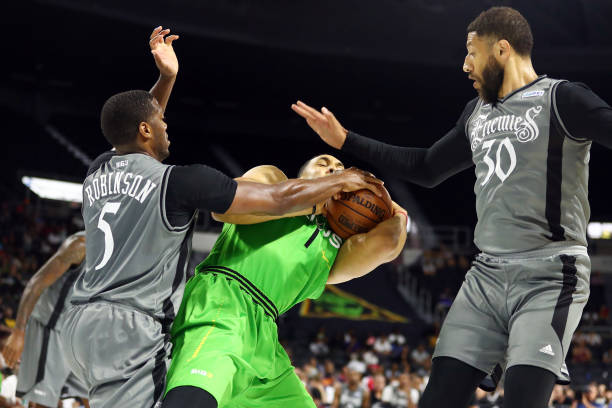 In the second game of the day, the Aliens looked to build on the momentum of grabbing their first win of the season last week in Birmingham. However, the Enemies had other plans as they looked to extend their two game winning streak. Coming into the game, it seemed as though the Aliens had finally figured out how to maximize the size advantage they have over most teams in the league. A nice rotation of Greg Oden and Ryan Holland was successful in their win over the Ball Hogs but it wasn't enough against the Enemies. While outsized, good defense by Royce White and Craig Smith held Oden and Hollins to 11 and 8 points, respectively.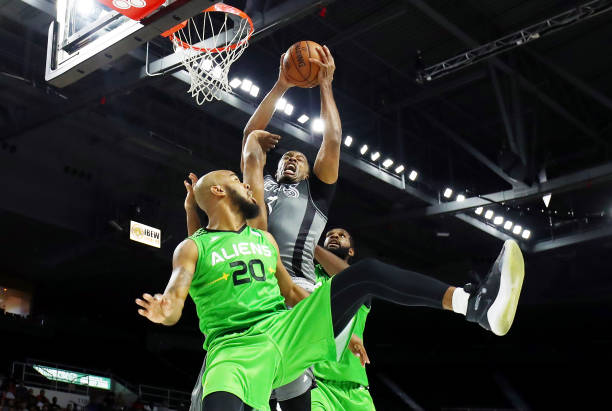 White followed up his unconventional double-double with another solid performance scoring 8 points while grabbing 4 rebounds and dishing 2 assists. Smith has continued to fly under the radar, although it will be hard for him to remain incognito with his consistent performance. He followed up last week's 23 point performance with 19 points and 5 rebounds. After leading by 7 points at halftime, the Enemies pulled away quickly and never looked back en route to a 50-39 win to move to 3-1 on the season. Perry Jones was key in the win hitting the game winner and finishing with 13 points. The Enemies put their three game winning streak on the line next week against Trilogy while the Aliens look to get back on track when they face the Ghost Ballers.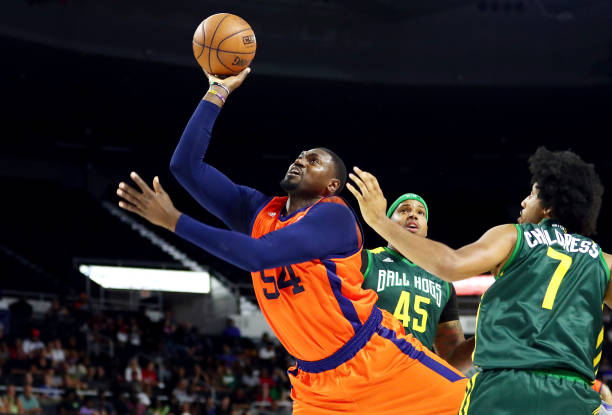 In the finale, one thing was for certain. One team would be coming away with their first win of the season. For 3's Company, Dahntay Jones was a spark as he was perfect from the floor, scoring 10 points on 5-5 shooting and hit the game winner. Andre Emmett has continued his solid play adding 15 points while Jason Maxiell poured in 12. After the game, Maxiell expressed that the team came into the game with the mentality that someone was going to finally get a win and that it might as well be 3's Company.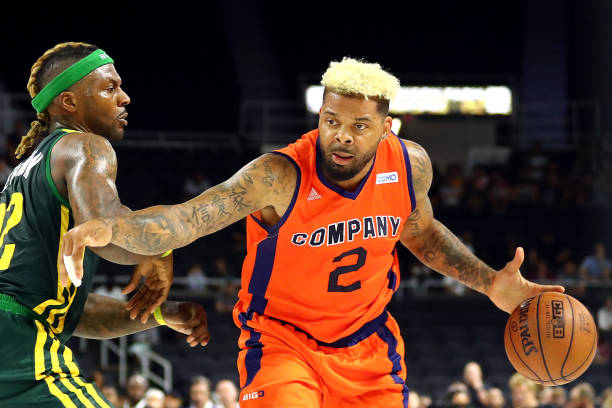 When the three pointers weren't falling, Maxiell said "You get down low, bang, and once you get down low, the rim is open." Maxiell also mentioned that 3's Company and the Ball Hogs lead the league in three pointers attempted but rank among the lowest three point shots made – a factor that will weigh on the team when game planning. 3's Company will look to build upon Saturdays win when they take on Bivouac in Kansas City next week. Meanwhile, the Ball Hogs will still be on the hunt for a win but it won't be easy against the Killer 3's, one of the last remaining undefeated teams.