The BIG3 returned to Brooklyn to conclude Week 4 of the 2019 season. Being back in the Barclays was a homecoming of sorts for several BIG3 players.
First up, Lisa Leslie and her Triplets put their undefeated record on the line as they faced Amar'e Stoudemire and a Tri-State squad fresh off their first win of the season. Stoudemire is coming off a dominant performance which earned him Player of the Week honors as he prepared to work out for several NBA teams. Tri-State struck quickly but the sharp-shooting of Jannero Pargo sent the game into halftime with the Triplets holding a 26-19 lead. Pargo hit three 3-pointers in the first half in his return to the lineup. Tri-State was dealt a big blow when Nate Robinson went down in the first half with an injury. He did not return to the game.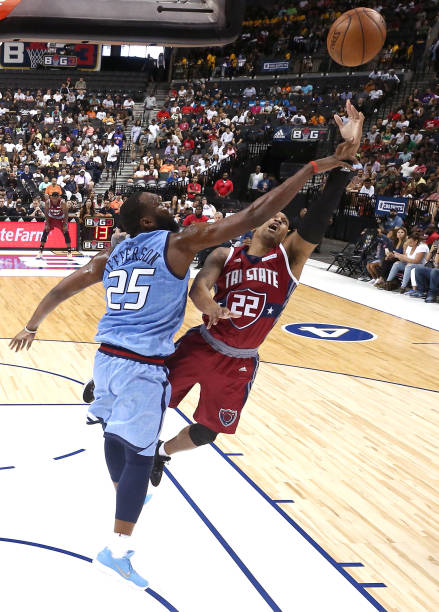 Jason Richardson went to work in the second half for Tri-State but the balanced attack of the Triplets was too much to overcome. Al Jefferson led the Triplets with 14 points and 9 rebounds while early MVP front-runner Joe Johnson added 13 points, including the game winning 4-pointer. After the game, Johnson said of the shot, "I had space, we had 46 points, why not? Make that 4-pointer, get us on outta here." Johnson has hit the game-winner in 3 of his 4 games in the BIG3. Coach Lisa Leslie said that this is the most complete game that her squad has played thus far. The Triplets went on a 6-0 run and made four straight field goals during the second half en route to the 50-37 win. Richardson led Tri-State with 20 points while Stoudemire added 13. The Triplets put their unblemished record on the line again next week when they face the defending champion Power. Another aspect of the game which cannot go unmentioned is the matchup of 2018 Coach of the Year Nancy Lieberman and early 2019 favorite Leslie. Tri-State will face the 3-Headed Monsters. It is unknown if they will be without Robinson which could be a huge factor.
Next up, Bivouac went to to toe with the 3-Headed Monsters – both lost hotly contested battles last week in Atlanta with the Monsters dropping their first game of the season. In its two previous losses, Bivouac simply had difficulty closing out games and Sunday's contest appeared to be headed in the same direction. After trailing by as many as 15 points, the 3-Headed Monsters put together an 8-0 run and climbed back into within 4 points. Nursing a 47-43 lead, Will Bynum was fouled on a three-pointer and headed to the line to shoot one free throw worth 3 points. It would prove to be the game winner as the 3-Headed Monster dropped its second straight game and Bivouac picked up its first win since opening weekend.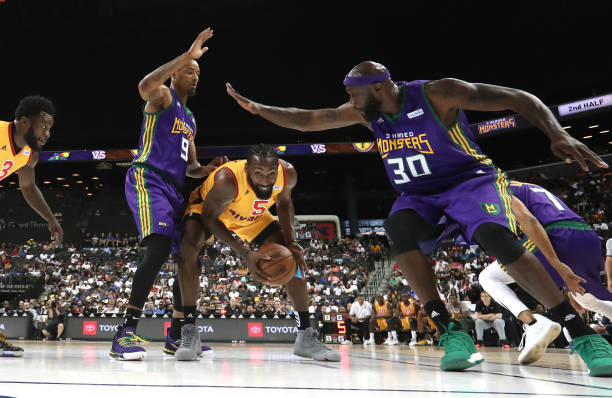 Bynum's 13 points led a balanced scoring attack with CJ Leslie adding 12 points and Shawne Williams chipping in 9 points. Reggie Evans led all scorers with 21. points while Mario Chalmers poured in 13 points for the 3-Headed Monsters. Evans is known for his rebounding prowess, not his scoring which led to a little ribbing from Williams and Bynum following the game. "The guy that got off to me was Reggie Evans," said Williams. "They made this guy look like an offensive threat which he's been known his whole career to play defense so he got away from us today a little bit." Bynum chimed in, "We playing tendencies out there so if Reggie is scoring, we good." Bivouac coach Reggie Theus added that his time is learning how to "win".
"I thought we grew today as a team because we had an understanding," said Theus. "Winning teaches you stuff. You learn how to win; winning is not just something that happens especially when the rules are a little different. We have the ability to put a team on the floor that everybody can switch. We have a team that can post up and play outside. We are a very balanced team that can attack from a lot of different ways."
Bivouac looks to expand on their win in Brooklyn when they take on 3's Company – a team that just got their first win on the season. The 3-Headed Monsters have dropped two straight games and will face Tri-State in Kansas City.
Different city, same intensity as the Killer 3's played wire to wire before prevailing in a dogfight with the 3-Headed Monsters in Atlanta. Much was the same today as the Killer 3's fought their way back from a 9-point deficit and the two teams traded buckets before being deadlocked at 48. The physicality and full on competitive spirit were both on heavy display as Killer 3's Stephen Jackson went down hard before appearing to shake it off and stay in the game. At the end, it was David Hawkins who drew the foul to win the game from the free throw line for Trilogy.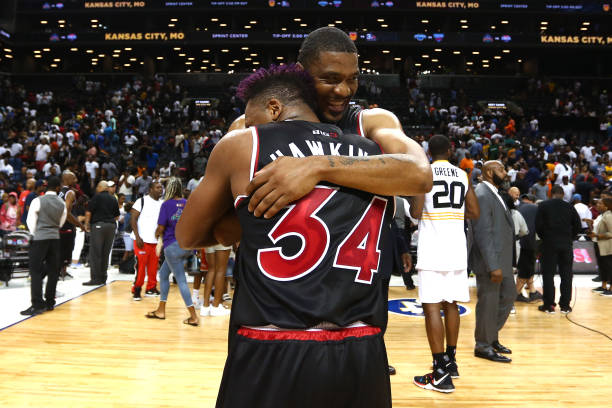 After the game, Trilogy coach Kenyon Martin was clear about communicating to his players how important it was to get a win on Sunday after dropping the first two contests of the season. "In the BIG3, if you start 0-3 you're pretty much out of it. You know, so I just challenged the guys and the guys responded." Aside from the game-winner, Hawkins continued his solid play contributing 21 points in the win while Sam Young added 15 points. Donte Greene led the Killer 3's with 18 points with Stephen Jackson and Frank Session rounding out the double-figure scorers with 12 and 10 points, respectively. Trilogy has beaten two previously undefeated two weeks in a row and hope to extend their win streak when they face the Enemies who are on a streak of their own. Killer 3's will look to bounce back with a victory over the winless Ball Hogs. The severity of Stephen Jackson's injury is unknown at this time.
The BIG3 will play in Kansas City on Saturday and Oklahoma City no Sunday. Games will be televised live on CBS and CBS Sports Network.