Going into week 8, the BIG3 playoff picture was murky, to say the least. After Saturday night's action at Miami's American Airlines Arena, the playoff picture moreso resembles a Picasso painting. With several teams log-jammed in the middle of the league standings, the South Beach stop was do or die for 5 of the 6 teams playing. Power has been at or near the top of the standings all season and would have to have a series of unfortunate events to be knocked out of the playoffs.
While the Triplets and Power are all but safe, every other team, excluding the Ball Hogs, have a chance of making it to New Orleans in a couple of weeks.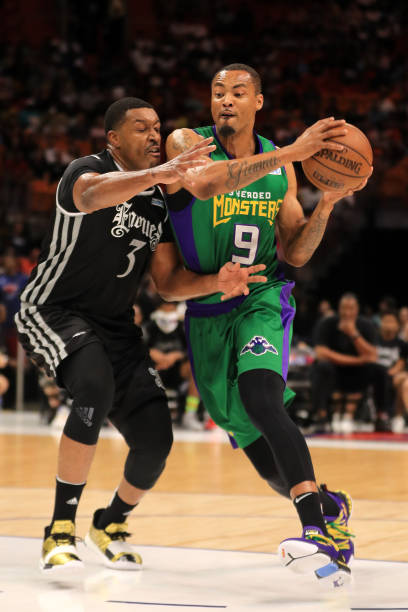 In the first game, the 3 Headed Monsters sought to end a four-game losing streak and revive their chances of sneaking into the postseason. On the flip side, the Enemies, once as high in the standings as third place, looked to snap a two-game losing streak themselves. The 3 Headed Monsters took an eight-point lead into the half and never looked back courtesy of a hot hand from Mahmoud Abdul-Rauf who scored 8 straight points en route to leading his team with 13 points. Rashard Lewis chipped in with 11 points while, former Heat guard Mario Chalmers added 9 points in front of what was once his home crowd. Captain Gilbert Arenas was back with the Enemies after missing last week but the team just couldn't find a spark when it needed it the most. Craig Smith continued his solid campaign, scoring 16 points on 4-for-6 shooting and even though the Enemies improved to 63% from the field in the second half, they simply were not taking enough shots. Compared to the Monsters' 36 shots, the Enemies only took 23. That statistic is understandable due to the Monsters hitting the glass for second and third opportunities. They had twice as many rebounds (26) as the Enemies and when they got those extra shots, they made them. They shot 50% from the floor and 50% from behind the arc.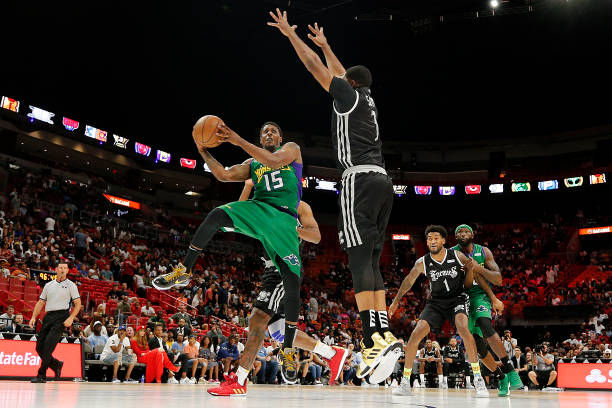 The 3 Headed Monsters had not won a game since Week 2 and were only ahead of the Ball Hogs, who have yet to win a game this season. With the 50-32 win, the Monsters move to 3-4 and still face an uphill battle to a playoff berth. The loss dropped the Enemies to 3-4 and they find themselves in that #11 position, 3 games behind the league-leading Triplets.
Game two saw the defending champion Power taking on Amar'e Stoudemire and Tri-State. In what was arguably the most complete game they've played all season, Tri-State shocked the second-ranked Power with a 50-43 win on an acrobatic Nate Robinson 3-pointer. Three weeks removed from an eye socket injury, Robinson led all scorers with 20 points while Jason Richardson poured in 19 points and pulled down 10 rebounds for a double-double. Stoudemire had 9 points as the attention that he drew opened up opportunities for his teammates.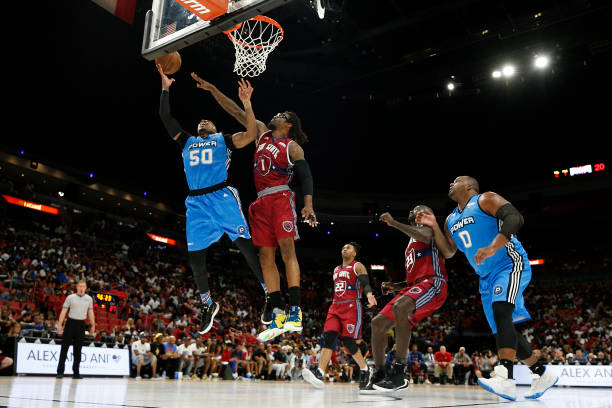 "Man I know what's going on with them man," said Stoudemire. "Nancy Lieberman sends them scout reports and they do a full sit-down and just try to scoot my game. So they try to, they go with personnel as if it's the NBA playoffs, so I figured that today they were going to try to get tight on me with the basketball and try not to let me get to my sweet spots on the court. That's what they tried to do and the great thing about us is that we have a well-rounded team to where Nate and J Rich got off tonight and they couldn't stop those guys and I was able to defend whenever they tried to take advantage of Nate in the post. I wanted to make sure I was there to help him out."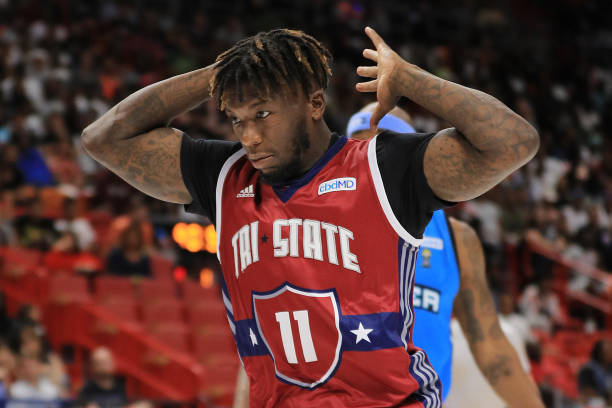 Despite leading by 7 at the half, Power was not able to sustain due in part to poor shooting in the second half where they went 5-for-13. Reigning MVP Corey Maggette led Power with 19 points while Julian Wright, Carlos Boozer, and Quentin Richardson all scored 8 points each. Glen "Big Baby" Davis was held scoreless and Power was without Cuttino Mobley for the second game in a row. The win drops Power to 5-2; one full game behind the Triplets while Tri-State improved to 3-4 and sit in seventh place.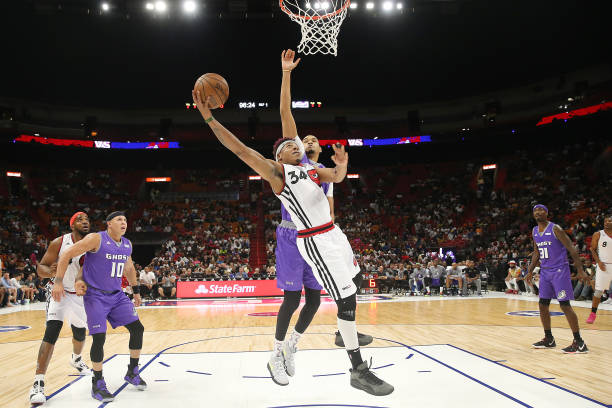 In the finale, the Ghost Ballers looked to cool off a hot Trilogy team that had rattled off four straight wins after starting the season 0-2. The Ghost Ballers have had their share of struggles as well, dropping three in a row after starting the season 2-0. This, however, is a different Ghost Ballers squad with the additions of Chris Johnson (via trade with the Triplets) and Solomon Jones. Jones and Johnson give the Ballers an inside/outside game that is tough to defend, especially in 3-on-3 basketball. Johnson led a balanced scoring attack, adding 14 points and seven rebounds while Alex Scales poured in 13 points, including 3 three-pointers. Mike Taylor and Ricky Davis each scored 8 points with Jones rounding out the scoring with 7.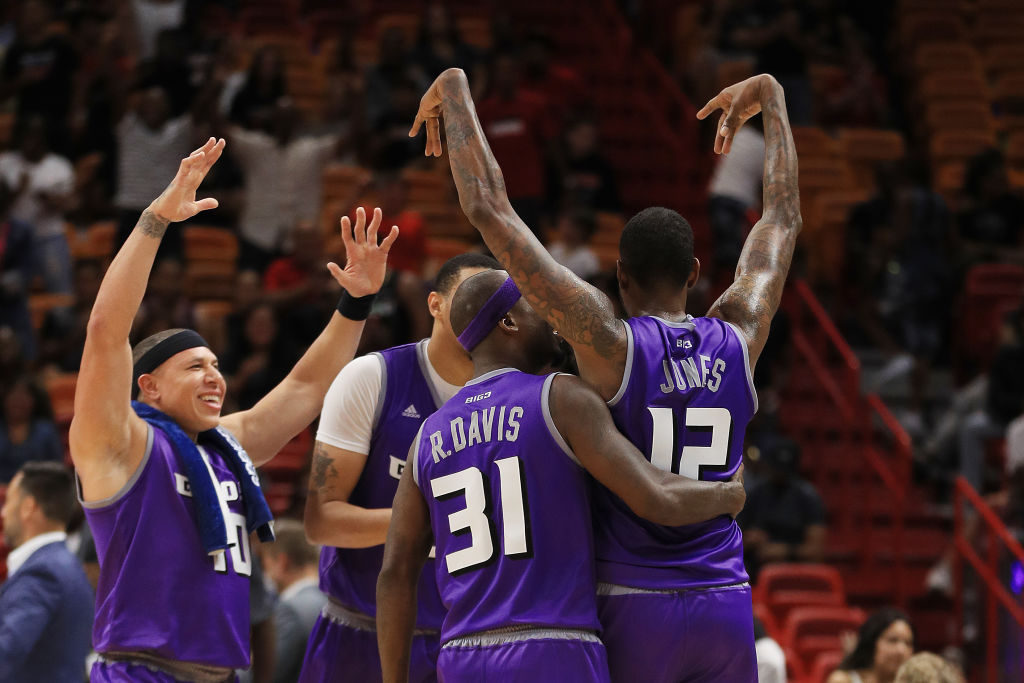 The Ghost Ballers were also able to slow down David Hawkins who had been on a scoring rampage in the last few weeks. Hawkins was held to 10 points but James White and Samardo Samuels picked up where he left off scoring 14 and 16 points, respectively. After trailing by 7 at the half, Trilogy battled back to make it a tight ending with each team at point game before Jones sank the winning 3-pointer.
Next week's BIG3 Ball-Out Festival in Dallas marks the conclusion of the regular season with each and every game playing a determining factor in the playoffs in the next couple of weeks. Later in the week, we will dissect the current standings as well as different playoff scenarios including the possibility of a change to the playoff brackets.