WrestleMania 33 is Around the corner
WrestleMania 33 is nearly a month away and the anticipation of biggest event in Sports Entertainment continues to grow.For Raw, there is one more stop on the road to WrestleMania. For Smackdown Live, they have made their final stop and now they are on a path to Orlando. Everyone loves to book wrestling, so I am going to take a stab and book WrestleMania 33.
Main Event
Goldberg vs Brock Lesnar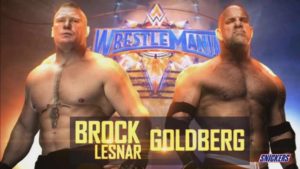 Although these two are both part-timers, there is no doubt that both men will draw money. WrestleMania is all about the dollar as well as serving as homecoming for not only fans of today, but fans of the past as well. This feud has been brewing since before the Survivor Series and everyone is waiting for Brock Lesnar to finally overcome Goldberg. Close the show with this match.
Winner: Brock Lesnar
WWE Championship Match
A.J. Styles vs Bray Wyatt (C)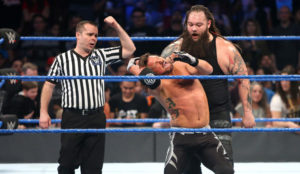 A.J. Styles has been Phenomenal all year and deserves a huge WrestleMania moment. Not only should he be in the WWE Championship match, but he should turn face and defeat Bray Wyatt to regain the title and set up a major babyface run.
Winner: A.J. Styles
WWE Universal Title Match
Kevin Owens (C) vs. Chris Jericho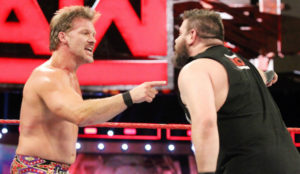 Once best friends, now they are enemies after Kevin Owens attacked Chris Jericho on Monday Night Raw. We know Chris Jericho rarely wins World Title matches at WrestleMania and it should not happen at 33 either. Owens defeats Jericho and moves on to set up a feud with a returning Finn Balor.
Winner: Kevin Owens
Raw Women's Championship Match
Charlotte (C) vs Bayley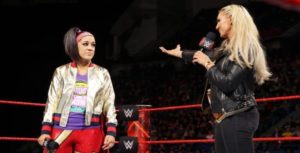 Charlotte has been on a PPV win streak and while she always manage to show up with the lights on, WrestleMania would serve as the perfect ending to her streak. On this night, Bayley reigns supreme.
Winner: Bayley
Smackdown Live Women's Championship Match
Alexa Bliss (C) vs. Mickie James vs. Becky Lynch vs. Natayla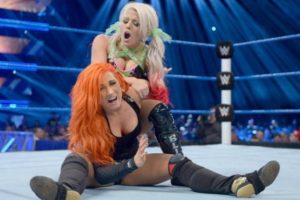 Alexa Bliss defeated Becky Lynch to win her second Women's Championship. Bliss received the opportunity after Naomi was forced to vacate the title due to injury. Natalya has seemed to gain steam as a heel in her feud with Nikki Bella. Now would be time for her to shock the world and win the women's title.
Winner: Natalya
WWE Intercontinental Championship Match
Falls Count Anywhere Match
Dean Ambrose (C) vs. Baron Corbin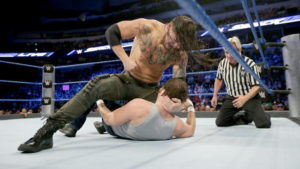 Dean Ambrose and Baron Corbin are a match made in heaven for any non-traditional fan. This would be a perfect falls count anywhere match. On this night, Corbin defeats Ambrose to win the I.C. Title.
Winner: Baron Corbin
Raw Tag Team Title Match
Anderson and Gallows vs. Enzo and Cass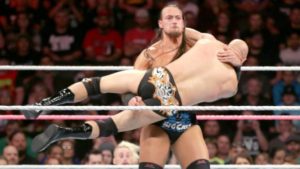 Some may think Enzo and Cass are losing steam. Putting them in a program for the Raw Tag Team Titles could help them, as Anderson and Gallows are strong enough heels to keep them face. Enzo needs to grow on the microphone. He is starting to get old or maybe I am one of a couple of haters. However, WrestleMania 33 would serve as the crowing moment for the Certified G and Bona Fide stud, and you can't teach that!
Winners: Enzo and Cass
Smackdown Live Tag Team Title Match
American Alpha (C) vs The Usos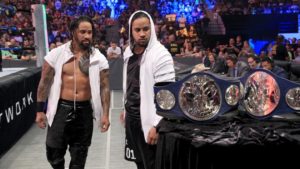 American Alpha has been one of the best wrestling tag teams since Team Angle. But as characters they seem to lack something. The Usos have reinvented themselves and now is the time to put the tag titles back on them.
Winners: The Usos
Mixed Tag Team Match
John Cena and Nikki Bella vs. The Miz and Maryse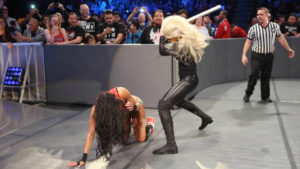 Nikki Bella and Maryse have found themselves crossing paths as Maryse has been hit in the crossfire during Nikki's matches with Natalya. Maryse brutally attacked Nikki so much that the Miz stopped his wife from doing more damage. The Miz has been constantly reminding us that he won the main event of WrestleMania 27. His opponent, John Cena. This would be a good opportunity for Cena to shut the Miz's mouth.
Winners: John Cena and Nikki Bella
Andre The Giant Memorial Battle Royal
The battle royal serves as an opportunity for new stars to be made. This night, would be perfect timing for the return of Finn Balor. Balor would come back, add something else to his resume and put himself of Kevin Owens' radar.
Winner: Finn Balor
Revenge of Plan B
Seth Rollins vs Triple H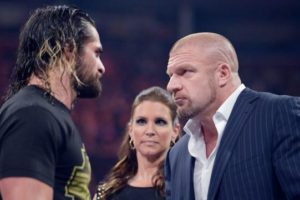 Seth Rollins was on the verge of winning the WWE Universal Title when Triple H turned on him and pedigreed him. Rollins has called Triple H out on numerous occasions, but he has yet to get his hands on his former mentor. These two should not touch each other until WrestleMania. And then, Rollins gets his revenge, hitting Triple H with a pedigree for the win.
Winner: Seth Rollins
The Boss vs The Bo$$
Stephanie McMahon vs Sasha Banks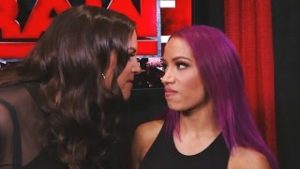 Stephanie McMahon has made it clear whose in charge. Sasha Banks does not agree. Now is the perfect time for Stephanie McMahon to get back in the ring. While all cards would lead to Sasha winning, Nia Jax is always a thorn in her side and would lead to Stephanie winning and ultimately make a deal for a title shot with Bayley.
Winner: Stephanie McMahon
It's My Yard
Undertaker vs Roman Reigns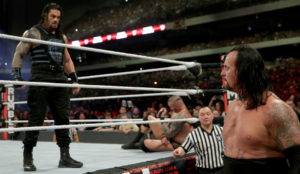 It all started at the Royal Rumble when Roman Reigns eliminated the Undertaker and told him, it was his yard now. The Undertaker has been synonymous with WrestleMania after he won 21-straight matches. Since his loss to Lesnar, a loss at WrestleMania is not as shocking. Reigns has been a stale babyface, therefore a win over Undertaker followed by a beat down and sending him out of the arena on the stretcher would give have him booed legitimately out of the building.
Winner: Roman Reigns
WWE vs NBA
Big Show vs Shaquille O'Neal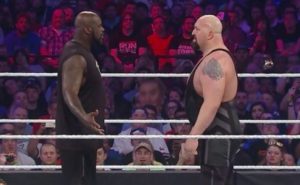 Big Show and Shaq have met face to face on many occasions in the squared-circle. However, with WrestleMania in Orlando, the place where O'Neal became a famous NBA player, now is the time for this match to finally happen. And of course Shaq wins.
Winner: Shaq
There will be a few more drafts, after all , I am booking a show that is about a month away. Anything can happen in between.
In the meantime, tweet me @BrianHWaters on @1340amFoxSports, how would you book WrestleMania?