The College Football Playoff committee has a slight dilemma that may evolve to a state of emergency next weekend. That is because the wild week that was week 13 presented a few of developments. Two upsets at the top of the polls will result in major changes. Meanwhile, the SEC will soon have four head coaching vacancies and in the Pac-12, a familiar face will return. There are a couple of new faces in the SEC brethren of coaches. Conference title games are set in stone at this point but before then, let's highlight a few key points from this past week in college football.
Auburn Rolls 
The Iron Bowl is arguably the most passionate rivalry in college football. This year's matchup of Alabama-Auburn had SEC West title implications, SEC Championship implications, as well as CFP ramifications on the line. A 26-14 win by Auburn places the Tigers in the SEC title game. There is no doubt that Auburn is one of the hottest teams in the country. Beating Alabama is a huge deal in those parts. Beating Alabama for the SEC West title provides even more value to the win.
New Coaching Hires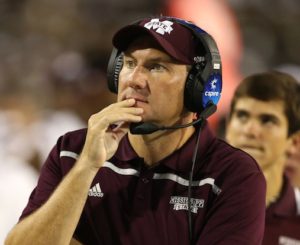 As quickly as several programs made their decision to fire their head coaches, a few positions have already been filled before the conclusion of the regular season. The biggest hire so far has been UCLA's enlisting of former Oregon head coach Chip Kelly. His presence will lead to successful seasons for the Bruins pretty soon. The Florida Gators have decided to make former Mississippi State head coach Dan Mullen their guy although Mullen receiving $7 million a year to coach may be the Florida program overpaying slightly. Also in the SEC East, Tennessee saw something in former Rutgers head coach and Ohio State defensive coordinator Greg Schiano to "right the ship". The jury is out that one in particular and rightfully so.
Stanford Earns A Title Game Berth 
They needed a little help from a conference foe but Stanford is now in the Pac-12 title game next Saturday after handing Notre Dame a 38-20 defeat. Stanford started 1-2 this season which included an 18-point loss to USC and a road loss to San Diego State. Wins over Washington, Utah, and Notre Dame helped guide the Cardinal to their current placement. Revenge is on the mind of Stanford as they meet USC for the second time this season.
Canes Stumble 
Wins over Virginia Tech and Notre Dame vaulted the Miami Hurricanes to 2nd overall in the CFP rankings. A slight scare occurred last week at home against Virginia but many expected the team to handle the lowly Pittsburgh Panthers in the regular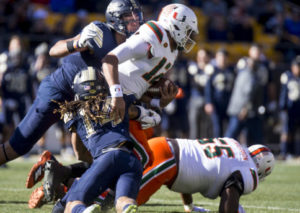 season finale. That didn't quite happen as the Canes fell 24-14, thanks to solid defensive play from Pittsburgh and the inability to make big plays on offense. The Canes have a ACC title game matchup against Clemson so all is not lost for 10-1 Miami and their CFP hopes.
UCF Stays Undefeated 
One of the better stories in college football this season, the UCF Knights capped their regular season with a thrilling 49-42 win over South Florida to remain undefeated on the season at 11-0. Now their sights are turned to the AAC championship against Memphis, which will surely create a ton of yards and points. What head coach Scott Frost has done there is remarkable as the program is only two seasons removed from an 0-12 campaign. Making the CFP will be a difficult hurdle for the Knights but nonetheless, their 2017 season has been special.