After four weeks of camp and two preseason games, the 2022 edition of the Washington Commanders is getting close to the dreaded cut day. With five players let go last week, another five will be let go this Tuesday, then the big cuts on August 31st. Here is where I see the roster standing on September 11th vs. the Jacksonville Jaguars. To see my previous predictions click here. Projected starters will be in bold.
Offense (25)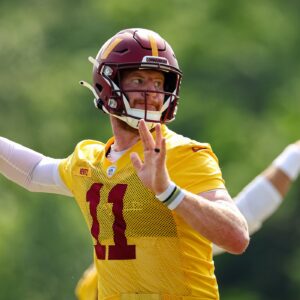 Quarterbacks (3)- Carson Wentz, Taylor Heinicke, Sam Howell. In that order this has been solidified in the teams eyes. Wentz is clearly the number 1 and has gotten all of the 1st team reps. Heinicke is the clear backup because of his knowledge of the playbook and his trust from his teammates. Howell has shown good ability but needs work. The team cannot afford to practice squad Howell because he would definitely be signed elsewhere.
Running Backs (4)- Brian Robinson, J.D. McKissic, Antonio Gibson, Jaret Patterson. This group has not changed from my first prediction but the starter has changed. Now maybe this is light a fire under Gibson but Robinson has shown he should be the lead back with his ability. Now Gibson showed his value yesterday with some great catches which can make this offense dangerous. To me Patterson is holding on to the last spot because he is on all the special teams and has shown the most consistent rushing ability. Jonathan Williams is right on his heels and the team could keep him and put Patterson on the practice squad.
Wide Receivers (6)- Terry McLaurin, Curtis Samuels, Jahan Dotson, Cam Sims, Dyami Brown, Dax Milne. These six have not changed, the order has slightly however. The first three are clear and Cam Sims has a defined role and starts on every special team, which leaves a group of Brown, Milne, Erickson, and Harmon for those last two spots. Brown has the inside track but he is not impacting the game much and his one big opportunity from the Chiefs game was knocked down. Milne and Erickson have done some return work which would be required of the 6th receiver and if they a level then the edge goes to the younger Milne. Harmon hasn't done enough to move into those six but will be a practice squad member that can be moved up incase of injury.
Tight Ends (4)- John Bates, Cole Turner, Armani Rogers, Eli Wolf. This group has been decimated by injuries and you can tell the team is getting concerned. I don't believe that Logan Thomas will be ready week 1 nor should the team try to rush him back, he needs to be at 100%. If yesterday had been a real game I think Bates and Turner would go so I don't expect those two to play against the Ravens, but practice to be ready for Jacksonville. Rogers had gotten all the first team reps and had improved greatly and then he was nicked up yesterday. The team will probably bring in a TE or two soon.
Offensive Line (9)- Charles Leno, Andrew Norvell, Chase Rouiller, Wes Schweitzer, Samuel Cosmi, Cornelius Lucas, Saadiq Charles, Keith Ismeal, Aaron Monterio. This is the other position group that has caused such great concern for the team. The healthiest is Cosmi who is solid, Leno who is a stud but had a minor injury that kept him from going to Kansas City. Chase Rouiller is coming back off injury and is getting limited reps to have him ready for week one. The guards are this issue and the biggest of them all is Trai Turner. He has not played at all this preseason and has barely practiced. Wes Schweitzer can play one guard but Norwell needs to be healthy too. Larsen will start on PUP and it is possible Turner does too which allows Monterio to make the roster. He played some guard yesterday,
Defense (25)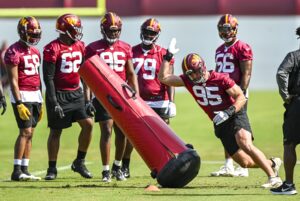 Defensive Line (8)- Montez Sweat, Jonathan Allen, Da'Ron Payne, James Smith-Williams, Ryan Toohill, Phidarian Mathis, Daniel Wise, Shaka Toney. These position groups offers the most competition and is probably the most wide open of any on the roster. The starters are locked in with Chase Young starting the season on IR or PUP. This may come down to who the team can stash on the practice squad and who they must protect. Obada, Bradley-King, and Rotimi have all made a case to make the team. This is the position to watch.
Linebacker (5)- Cole Holcomb, Jamin Davis, David Mayo, Khalake Hudson, Milo Eifler. This is the group that gives fans the most trepidation but the team doesn't have the same concerns. With the buffalo nickel playing the LB in base this group only concern is health because there is a deep talent drop off. Still think the team plays the wavier wire here and can stash Eifler in the practice squad.
Cornerbacks (6)- William Jackson III, Kendall Fuller, Benjamin St. Juste, Danny Johnson, Christian Holmes, Corn Elder. The first five spots are solidly locked in but that sixth one is still up for grabs. I have Corn Elder slotted in but could the Commanders have a USFL star and local product Dejaun Neal make that spot. Surely he will get a practice squad spot if not but that's the competition here.
Safety (6)- Kam Curl, Bobby McCain, Darrick Forrest, Percy Butler, Jeremey Reaves, Farrod Gardner. This is the six here with the release of Troy Apke. Forrest playing that base strong safety with Butler learning the free safety position, Reaves the special team ace and Gardner leaning the buffalo nickel.
Special Teams (3)
Joey Slye, Tress Way, Camaron Cheeseman- Locked in.
I'm still at 25 for each side of the ball. Anything you would change? Let me know.