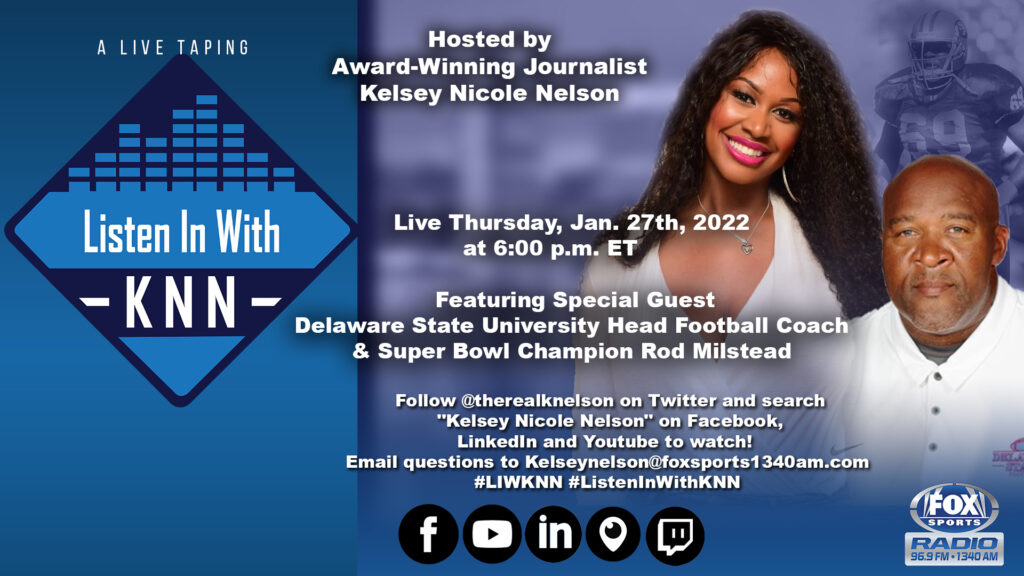 On the latest edition of "Listen In With KNN", a sports talk radio/podcast show presented by FOX Sports Radio 1340AM/96.9 FM, executive producer and host Kelsey Nicole Nelson welcomed Delaware State University's head football coach and former Super Bowl champion, Rod Milstead to the show.
Nelson and Milstead dived into the discussion by exploring the surge of interest in historically Black college and universities (HBCUs) sports programs, such as Delaware State's.
When asked how he felt about the recent influx of former professional athletes joining HBCU coaching ranks, Milstead responded, "Well, the biggest thing is I welcome them. I am one of the few that graduated from an HBCU, and got a chance to go play in the NFL … and then to be able to come back and coach.. It's just a childhood fantasy."
Milstead added, "I'm glad that Deion Sanders, my former teammate from the 49ers, is really making a lot of noise and is opening up eyes for people to see that there's a lot of talent in HBCU football. Also, that there's a big disparity when you look at the HBCU football field of play … when I'm talking about revenues and resources.. it's different. I would definitely like to work with him to bring more awareness to our HBCU football programs."
But this isn't just business for Milstead. Born and raised in Charles County, MD, he was on track to attend Howard University in Washington, D.C. on a full scholarship. However, fate had other plans. Milstead decided to instead attend Delaware State University, where he had a standout football career. He was a three-time all Mid-Eastern Athletic Conference (MEAC) First Team selection, amongst other accomplishments, before graduating with a degree in Criminal Justice in 1992.
"It gave me a place to grow," Milstead said when explaining his reasoning for attending Delaware State. "They had a plan for my football career, they also had a plan for my academic career. My job was just to follow the plan."
However, Milstead's growth opportunities were not limited to on the court or in the classroom. He also explains that his time at Delaware State helped him mature as a person. It's that same enrichment and care that Milstead believes players today should take into consideration before passing up HBCUs in favor of bigger programs.
"You're still gonna have a lot of high school guys who like the it-factor. They see all the things that come with these big universities. The locker rooms, the hundred thousand seat stadiums, and the way they do things," he explained. Milstead added, "Right now the HBCU experience is totally different. We don't have those resources. So, what you're gonna get at an HBCU is a coach who's gonna be more like a father to you. You're gonna get a coach that actually knows your name, and he's gonna follow your career."
While talking with Nelson, Milstead characterized himself as an old school coach. His program puts academics first and aims to teach his players to "use football as a vehicle to get to a destination." This philosophy stretches to the program's recruiting process, as they evaluate prospective recruits in a well rounded manner, not solely on athletics. A proud father to four daughters, Milstead thinks of his players as the sons he never had. His goal is not only to help his players grow and develop athletically, but to grow as men.
When approaching prospective DSU players and their families, Milstead tells them, "I am the product that I'm selling. The finished product is Rod Milstead, that's what I'm inspiring your son to be once he finishes his football and academic career at Delaware State."
And what an example they have to mold themselves after. Milstead was drafted in the fifth round of the 1992 NFL draft by the Dallas Cowboys. He went on to have a successful eight year professional career. It was with the San Francisco 49ers that he won the Super Bowl in 1995. After retiring from his professional career, he went on to coach at both the high school and collegiate levels.
However, his journey wasn't one that many would think likely. Milstead began his football journey in high school. It started slow, and he played very little his first year. But, he was passionate and motivated to become better. After taking the initiative to secure a spot for himself at a football camp, he became a true "student of the game,"in his own words. He studied the other players, learning from them through observation.
From there Milstead's high school career took off, and he went on to become a two-time All State offensive lineman who helped lead his team to a state championship. In just four short years he went from riding the bench to securing a full athletic college scholarship, and eventually playing at the highest level professionally.
Milstead reflected on this journey while discussing his induction into the 2021 MEAC Hall of Fame class, as well as some highlights from his professional career. During his time in the NFL, Milstead played for various NFL teams which included the Cleveland Browns, San Francisco 49ers, and the then Washington Redskins. As a DMV native, Milstead enjoyed the opportunity to return home in 1998 and play for the home team, who his family was an avid fan of.
The team retired the name, which they'd played under since 1933, in July of 2020. This came after several decades of civil rights organizations calling for a change for a name they felt was offensive. After two years, the Washington Football Team released their new name, the Commanders, on February 2nd, 2022.
When asked what he would have chosen to rename the Washington Football Team to, Milstead responded, "It would've been the Red Wolves … I heard rumors about the Admirals … But whatever the name is, I'm gonna be a fan. It's a part of my history."
To watch the full conversation with Rod Milstead, check out the episode below.