Talent in the NFL is pretty universal, maturity in young men is not. And in the NFL, the difference between losing and winning is small. If you make it to the NFL you posses talent that's never the question. The maturity that is required is what usually separates the wheat from the chaff. This is the crossroads that Dwayne Haskins finds himself at today.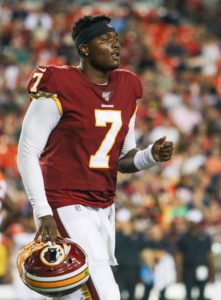 Haskins performance on the field has already been up and down. It has been well documented that the previous coaching regime did not want to draft him and owner Daniel Snyder did. That was a factor outside of Haskins control. Jay Gruden and staff did not spend much time working with Haskins so his initial development was behind. When Gruden was fired Bill Callahan was given the duty of playing Haskins. The more snaps Haskins received the better he looked and Haskins was trending upward. There of course was the sideline selfie moment in the final moments of his first win where he missed a snap, a self inflicted wound.
Coach Ron Rivera was hired and brought in a third offense for Haskins to learn in less than two seasons. That is the job for an NFL player and Haskins had to do it in an off season that was without workouts, mini camps, and OTA's. Haskins was said to be doing well and was named not only the starter but a captain. Being voted a captain is a huge deal because it's based off of a team vote which showed maturity that his teammates saw him as a leader.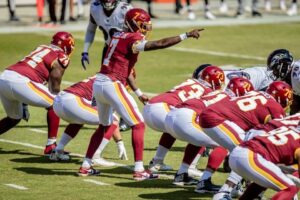 Once the season started with a big win over the Philadelphia Eagles, the wheels started to unravel. A few losses and bad performances led to Haskins being challenged by Coach Rivera. When reports of Haskins not doing the during the week film study and not taking advice, he was benched. That one was on Haskins and he was humbled by going from the starter to third string. After that the only time he was in the news was when he invited a family member to the team hotel, which is only incorrect in the COVID protocol.
After the season ending injury to Kyle Allen, Haskins was the backup again to the feel good story Alex Smith. Coach Rivera even stated that Haskins was doing everything he was asked to do and was emulating Alex Smith. Another chance for redemption was the relief for Smith last week and helped the team secure the win. Then Haskins was given a chance to start and played about as up and down as you could. Started bad then almost brought the team back. Then after the game a brutal choice.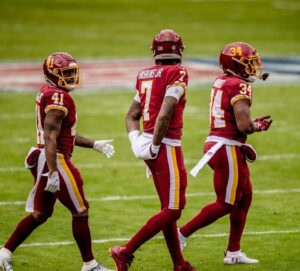 In normal circumstances going out after a game win, lose, or draw is not a big deal. We all do it, go to happy hour or go dancing after a long stressful week at work and NFL players are not exempt. As much as fans want NFL players to eat, sleep, and play football, that is not realistic. However in the middle of 2020 and this unfortunate pandemic, going out is not an option or smart for anyone, especially without wearing a mask. COVID has affected everyone's life to know the risk and that cannot happen. Especially around those like Coach Rivera who is recovering from cancer. This is all on Haskins.
I'm not here to vilify Dwayne Haskins. Haskins is not a bad person or a criminal or anything of that nature. At this moment he is an NFL talent that needs work on his maturity and decision making, on and off the field. I don't pretend to know what Coach Rivera will do. If there wasn't questions about Alex Smith's health he would be relegated to third string. The team said the matter would be handled internally and Rivera has a choice to make. Haskins' time in Washington is probably coming to an end, which is good for all parties. Challenges in life come in many forms; some created by circumstances, others are self conflicted. Haskins faces some big hurdles to being an NFL quarterback, but the bigger and more important challenge is with himself.