Dylan Bundy Living up to the Hype in Baltimore as the Orioles are Winning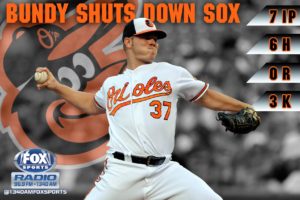 With the fourth overall pick of the 2011 MLB June Amateur draft, the Orioles selected Dylan Bundy. Immediately, fans had high expectations for the 19-year old from Owasso, Oklahoma. At the time, fans were desperate for a winning team. After all, the franchise had not made the playoffs since 1997, where they fell to the Cleveland Indians in the ALCS. Bundy had a lot of promise and fans were ready. After a few setbacks in his career, 2017 has blessed the Orioles with the Dylan Bundy they have been praying for.
Dylan Bundy Experiences Two Set Backs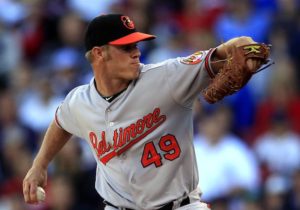 Bundy made his major league debut on September 23, 2012, against the Red Sox. He only pitched 0.2 innings and did not allow a hit. He would pitch one more time, bringing his total to 1.2 innings, allowing one hit and one walk. In June 2013, Bundy underwent Tommy-John surgery which forced him out of action for a year. He was again shut down in July 2015 with calcification in the back area of his shoulder. The phrase, "wait til Bundy gets back" was becoming been too familiar with Orioles fans.
Bundy Goes to the Majors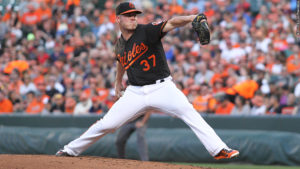 Bundy was impressive in spring training before the 2016 season, therefore he made the opening day roster. Manager Buck Showalter kept him on an inning limit. His role would be in the bullpen. He would work his way into a starter role after the All-Star break where he was asked to help a struggling starting rotation. He and Kevin Gausman both played prominent roles in the Orioles rotation when Cy-Young candidate starter, Chris Tillman was sidelined due to injury.  He finished the season with a 10-6 record and a 4.02 ERA.
He is the Guy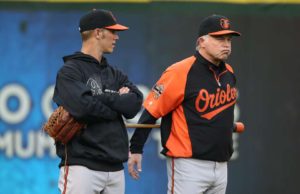 The Orioles 2016 season ended dramatically when they fell to the division rival, Toronto Blue Jays on a 3-run walk-off home run in the wildcard play-in game. The offense has not been the problem in recent years, it's been pitching. However, the phrase, "wait til Bundy gets back," suddenly is no longer a wish, instead it the time is now. He has pitched in 4 games in the 2017 season, posting a 3-1 record with a 1.37 ERA. In each win, he has a quality start (7 innings pitched, 3 earned runs or less). Here is another stat for Orioles fans to be excited about, he has not allowed a home run this season. Oh, by the way, every game has been against a division opponent.
Follow me @BrianHWaters