This Sunday WWE will present Fastlane pay-per-view which is the final one before WrestleMania 33. I will provide my overall thoughts along with my predictions along with my colleagues.

Rich Swann and Akira Tozawa vs. The Brian Kendrick and Noam Dar
Four Cruiserweights with start us off in high-flying action. This feud started because The Brian Kendrick told Akira Tozawa to be his mentor but he declined Kendrick's help. Then on Valentine's day, Swann stated that he dedicated his match to Alicia Fox. This caused Noam Dar to became irate and he took it personally because that's his girlfriend. I envision Swann and Tozawa will be walking out victorious in this contest.
Brian Waters: Swann and Tozawa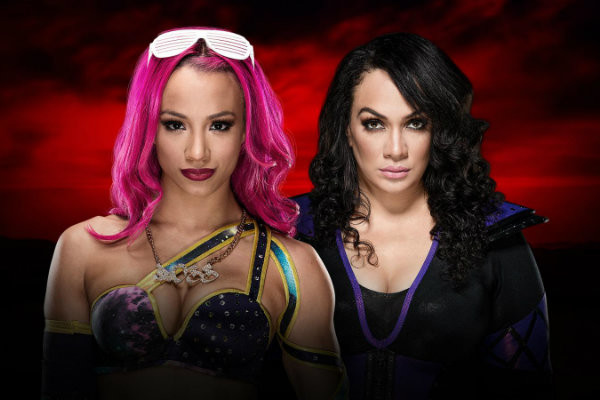 Sasha Banks vs. Nia Jax
Sasha Banks will look to get her confidence and revenge back on Nia Jax. This feud dates back to the day after a brutal thirty minutes Iron Man match Roadblock End Of The Line. Sasha Banks came out to congratulate Charlotte. However, Nia Jax brutally assaulted Banks on her injured leg and Banks was out of action for weeks. Then the two had a match had a match at the Royal Rumble. Jax destroyed "The Boss" in six minutes which had never happened before. Sasha Banks needs this win to even up the odds and gain momentum back on her side again.
Brian Waters: Sasha Banks
Raw Tag Team Championship
Enzo Amore and Big Cass vs. Luke Gallows and Karl Anderson
Luke Gallows and Karl Anderson won the RAW Tag Team Championship at the Royal Rumble last month they defeated Cesaro and Sheamus. Enzo and Cass became the next in line to compete for the Raw Tag Team Titles. After they defeated the former RAW Tag Team Champions Cesaro and Sheamus in a number one contenders' match on Raw. I envision Luke Gallows and Karl Anderson will retain their RAW Tag Team Championship.
Brian Waters: Enzo and Cass by DQ

WWE Cruiserweight Championship
Jack Gallagher vs. Neville
Neville has destroyed everybody on his way to winning the WWE Cruiserweight Championship. At WWE Fastlane, Neville will have a tough test in a real gentleman Jack Gallagher. Gallagher became the number one contender for the WWE Cruiserweight Championship. He survived a Fatal 5-Way on WWE 205 Live he defeated TJ Perkins, Noam Dar, Cedric Alexander and Mustafa Ali. He has got the best out of Neville in recent weeks with multiple attacks. This will be an outstanding match between two of the best Cruiserweights in the WWE. Neville will retain his WWE Cruiserweight Championship in a close encounter.
Brian Waters: Neville

Sami Zayn vs. Samoa Joe
Samoa Joe made a big impact the next day after the Royal Rumble he attacked Seth Rollins from behind which caused him to have a knee injury. Sami Zayn stated Samoa Joe name numerous times on the mic. Joe did not appreciate and he assaulted him from behind because he felt disrespected. He made an example of Zayn with numerous attacks after his matches. Joe will continue his domination and he will put another victim on notice.
Brian Waters: Samoa Joe
Raw Women's Championship
Charlotte Flair vs Bayley
Bayley defeated Charlotte Flair on RAW a few weeks ago to win the RAW Woman's Championship in an instant-classic on RAW. However, there was controversial finish due to the interference of Sasha Banks as she hit Charlotte with her crutches and that helped swung the match in Bayley's favor.
The next week on RAW Charlotte insisted Bayley cannot defeat her one-on-one, without assistance. Then Raw Commissioner Stephanie McMahon demanded that she relinquish the title. Bayley did not listen and she did not give up her title. This will be a difficult contest to predict because it is a toss up and it can go either way. I am leaning towards Charlotte Flair she will become the new RAW Women Champion and she will remain undefeated at pay-per-view.
Brian Waters: Charlotte Flair
Roman Reigns vs. Braun Strowman
This feud between the big man on RAW Roman Reigns against Braun Strowman has been very entertaining.
First, Strowman interfered during Reigns' challenge for the WWE Universal Champion against Kevin Owens at Royal Rumble. Strowman smashed Reigns through a table with his devastating running Powerslam.
The next night on Raw, Strowman challenged the WWE Universal Champion. However, this time Reigns gave Strowman taste of his own medicine by interfering and delivered a  Spear to the monster. The two giants have been at each others throats ever week since.
On RAW these two face off in a memorable contract signing that left Reigns beaten down. A lasting image was a weaken Reigns as he still signed the contract. This match is simple to predict because Strowman needs to win clean or by disqualification and continue his domination.
Brian Waters: Braun Strowman
WWE Universal Championship
Goldberg vs. Kevin Owens
Goldberg has run through everybody since his return he came up short in the Royal Rumble match. He has his sights set on his first gold since his return. Kevin Owens is the longest reigning WWE Universal Champion. Owens got all the dead weight when turned on his best friend Chris Jericho festival of friendship on RAW. In back to back weeks, on the mic, Owens displayed his hunger back to his NXT days. This will be a very intriguing match Chris Jericho will get involved in some capacity. Goldberg will win in record timing in a minute to become the NEW WWE Universal Champion.
Brian Waters: Goldberg
Follow me on Twitter @Nino_416
Follow Brian Waters on Twitter @BrianHWaters
All the photos were provided courtesy via WWE