On this special edition of "Listen In With KNN," sports talk radio show/podcast presented by FOX Sports Radio 1340 AM/96.9 FM, host and executive producer Kelsey Nicole Nelson welcomed special guest former NFL running back, two-time Pro Bowl selection, and Philadelphia Eagles Hall of Famer Brian Westbrook to the show live from Bowie State University's College of Business.
Westbrook is a DMV local hailing from Fort Washington, Md. He attended the prominent DeMatha Catholic High School in Hyattsville playing basketball and football. Starring in football, Westbrook was named a first-team All-Washington Catholic Athletic Conference selection and an All-State Honorable Mention selection in his junior season and was a first-team All-League selection, a first-team All-Prince George's County selection, and an All-State Honorable Mention selection his senior season.
After high school, Westbrook would then go on to play for Villanova University from 1997 to 2001 playing 46 career games. Westbrook holds the all-time NCAA record with 9,152 all-purpose yards as well as setting 41 school, 13 Atlantic 10 Conference, and 4 more NCAA records. For his great play, he was inducted into the Villanova University Club Hall of Fame in 2016.
After his time at Villanova, Westbrook was drafted in the 2002 NFL Draft by the Philadelphia Eagles in the third round. He would become the starting running back in 2004 when the team made it all the way to the Super Bowl and he would play in his first Pro Bowl. After playing in Philly for eight years, he played with the San Francisco 49ers in 2010 to wrap up his career. In 2015, Westbrook was inducted into the Philadelphia Eagles Hall of Fame.
An avid community servant, Westbrook started The Brian Westbrook Foundation. The foundation aims to serve underprivileged youth, offering them the opportunity to enrich their financial knowledge, leadership skills, and life skills through character training and vocational training. Nelson and Westbrook first spoke about his foundation and the event he hosted in conjunction with Data Science Camp, Inc. 501(c)3, earlier in the day at Bowie State. "The reason why we started the foundation, my wife and I, is because we wanted to help give back to our youth, in this area. This DMV area is so important to us. It was able to help raise me, my brother, my family, my friends, and so we wanted to make sure that this area is empowered," said Westbrook. He wants to make sure that the young people understand that they can have access to the technology and opportunities many other people have.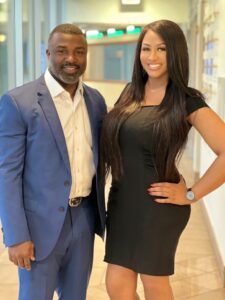 Westbrook talked about the data science and analytics importance in sports and the gap he has observed. He explained the shift occurring five to six years ago from hiring old football players and coaches to hiring students from Ivy Leagues where many underrepresented students aren't admitted to. "There are so many employers that are looking for people that understand data, that can analyze data, and we want to fulfill that funnel. We want to put our people that look like us, underrepresented, minority children, high schoolers that look like us…everything has data involved in it. Almost every job so we want to clear that pathway and show that pathway to our young people," said Westbrook.
The event on Friday evening was a STEM Camp Open House for science, technology, engineering, athletics, and math camp covering athletics and data science. This free online camp starts June 27th and runs through July 8th for high school students.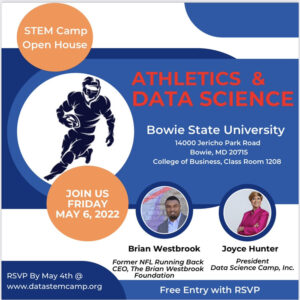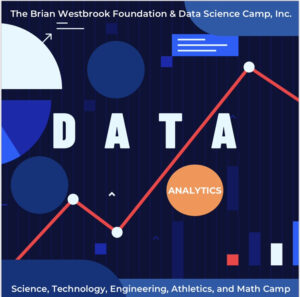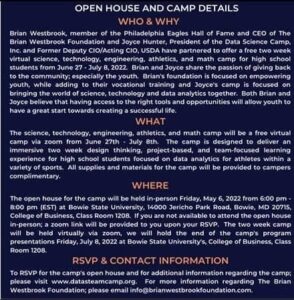 For more information on the Sports Data Analytics camp and additional activities, email [email protected] or visit datasteamcamp.org and bwestbrook.com.
While data science and analytics can seem daunting, it is a career path that anyone can pursue. "You don't have to be a great mathematician, be this great scientist or anything like that. This is just about understanding reading and understanding data. Can you tell that on fourth down we've achieved a first down on one out of ten? If you can tell that, then that's understanding the data," said Westbrook. According to an article written by Towards Data Science, "The population of Black and Latino sums up to around 32% of the total population in America. However, around 12% of them were enrolled in the Data Science program."
Westbrook said he would have taken data science classes when he attended Villanova if they were offered. "I would. I took MIS classes (Management Information Systems) so it really was data science but it was back in the day. So yes, I absolutely would. You can apply data analytics to any job that you're in…So many different things you have to be able to analyze the data and understand the numbers and if you can do that, then you have a job opportunity across this country at any time," said Westbrook.
Up until last year, Westbrook was doing broadcast work for the 10 years after retiring from the NFL. Since he has shifted his focus to business ventures using technology. "What we're doing now, our company Underdog is to help jumpstart start-up companies, and we've committed ourselves. 66% of our start-ups that we're going to help are female-led or minority-led companies. Now, we're using the data to find these right companies, we're trying to see if these companies fit, if we can help them. We build services around those startups to help them: digital services, technology services, advisory services, all those different things, partnership, and branding, to make our people successful. That's our goal," said Westbrook.
Nelson and Westbrook also discussed the 2022 NFL Draft occurring a few weeks back. Westbrook said he loves what the Eagles did and is happy they're getting players who fulfill the roster. The Eagles selected Jordan Davis, DT from Georgia no. 13 overall, traded their 18th pick for AJ Brown, Cam Jurgens, OT from Nebraska in the second round, Nakobe Dean, LB from Georgia in the third, Kyron Johnson, LB from Kansas in the sixth round, and Grant Calcaterra, TE from Southern Methodist University in the sixth round as well.
"The Eagles are at a point now where, this is a point that you want to be, that you're not going into the draft saying I need that position or I need that position. They're saying 'hey, we're going to take the best person available' so they can find the right guy, the best player that they can find," said Westbrook.
Nelson and Westbrook then touched on the considerably successful season the Eagles had in 2021 with Nick Sirianni who was a first-time head coach in the NFL last season. "He held the team together. I mean so many people thought this was going to be a team that was a six-win football team. I think they ended up winning nine or 10. It was impressive what he was able to do especially with Jalen Hurts, a second-year quarterback," said Westbrook. The Eagles finished the regular season 9-8 and went on to the playoffs.
To watch the whole interview, click below. You can find Westbrook on Twitter, Instagram, and Facebook.