The Greatest Rivalry in Sports History: North Carolina vs Duke
A rivalry of the highest order is upon us. North Carolina vs Duke has always been the game of all games when it comes to ACC Play. But both teams have been teetering between greatness and mediocrity. This is the type of game that ascends a team's confidence during the regular season. And there's no question the stars of this game will be out to perform. From star players like Joel Berry II and Grayson Allen. Also, stand-outs like Justin Jackson and Luke Kennard, expect a thrilling, high-scoring affair.
The Latest with UNC
Lately, the North Carolina Tar Heels have been mostly up and down. Since Theo Pinson went down with yet another injury (right ankle) the consistency has left them. Most recently UNC played Notre Dame and won 83-76. Around 3:53 left in the second half, the game was still in the balance with Carolina only being up by two points. Joel Berry II and Justin Jackson closed the game out with the last two field goals to bring their record to 21-4. Every starter scored in double figures plus freshman Tony Bradley added twelve points and five rebounds.
Duke's recent form
Coach Mike Krzyzewski has his team back on track and have won three straight after losing three out of four. Senior forward Amile Jefferson had a great game recently scoring 15 points and adding 9 rebounds. Luke Kennard and Grayson Allen are the two mainstays and motors of this team. Kennard has stepped up as the best player averaging 19.9 points and 5.2 rebounds. Likewise, Grayson Allen also has been having a great year averaging 15.9 points with 4.6 rebounds and 4 assists. Others like Jayson Tatum and Frank Jackson must also continue to perform for Duke to make a real tournament run.
North Carolina vs Duke: Part 242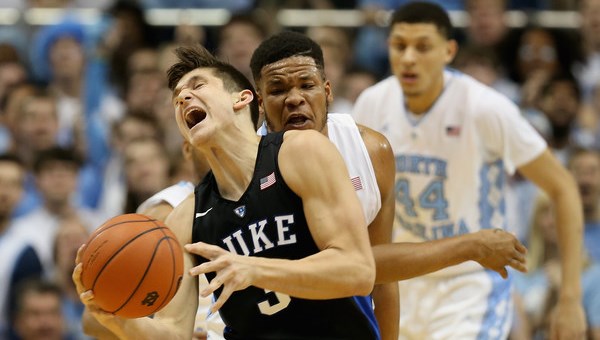 One of the most historic rivalries in Sports history is North Carolina vs Duke. They have played a combined 242 times with UNC winning the historic duels 134-108. But lately Duke has the edge under Coach K. This matchup will be a test of Duke's wingmen vs UNC's big men. Whoever plays the best between them will have the advantage since it's the other team's weakness.
For UNC, players like Kennedy Meeks, Isaiah Hicks and Tony Bradley must continue to dominate the glass and score of off offensive rebounds. Otherwise, the wingmen for Carolina must play tough defense and make their open three-point shots. The Tar Heels have only been shooting around 36% from three the past two games and must shoot around 43%-45% to win. With Theo Pinson likely returning from injury, their bench should be revitalized. 
Likewise, Duke's wingmen must out-perform to win this matchup. Talents like Jayson Tatum, Grayson Allen, Luke Kennard need to impact the scoreboard and help their bigs on the glass. Frank Jackson has been leading this team well and will need to play better than counterpart Joel Berry II. If Duke can shoot around 41% from three like they did against Notre Dame, they will be a tough team to defend