I Am Legend…The DeAngelo Hall Story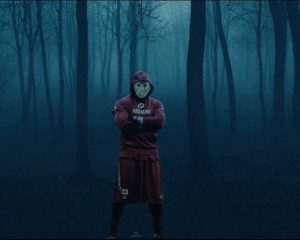 So you all forgot about the legend of DeAngelo Hall huh? You really forgot about that ballhawk who wore the number 23 for the Redskins over the past eight years? That player who has a total of 43 interceptions in his career? Well, if the answer is yes you must remember that players come in and go in the NFL, but only legends can make a name for themselves. According to a study done by NFL.com, the average playing career lasts about 4.74 years. That same study also states that only 1.6 percent of college football players make it to the NFL.
Playing in the NFL is not easy and neither is becoming a great player. It takes strong work ethic, athletic skills, and talent for the sport itself to become a consistent household name. So how you could forget to mention greatness when you mention his name? This ballhawk who has also shown his loyalty to his hometown team on multiple occasions and has been a leader his entire career. Well, Since you all seem to have forgot about him then please allow let me be the one to remind you.

LETS TAKE IT BACK…
DeAngelo Hall was born in Chesapeake, Virginia where he attended Deep Creek High School. He was a standout cornerback all four years of his high school and college playing career at Virginia Tech. In a 2004 interview with USA Today DHall was asked what legend he would compare his game? He said "I like Charles Woodson, Deion (Sanders) and Champ Bailey and I try to mold myself after those three guys." Hall alluding to all-pros past and present continued. "I get speed from Deion, and just that ability to shut down one side of the field. From Charles Woodson, it's the physicalness. And from Champ Bailey, the ability to make plays."
How could you forget about a player that had such a crazy swagg coming out of College? DHall brought that Deion Sanders type of bravado with him when he came into the league and that bravado was molded in the DMV area. He was born in Virginia which is in the DMV area so his loyalty for the Redskins was always inside of him.
Turmoil
DHall came to the Redskins at a time when both he and the Redskins were in complete turmoil. After having three breakout seasons with the Atlanta Falcons he was traded to the Oakland Raiders for a second round pick in the 2008 NFL draft. DHall and the Oakland Raiders agreed on a seven-year, $70 million contract with $24.5 million of that salary guaranteed. He was then released on November 5th of that same year after he failed to adapt to the Raiders' man-to-man style of defense. The Redskins on the other hand had problems of their own. With the sudden death of the great Sean Taylor and the retirement of Joe Gibbs the Redskins were in complete rebuild mode.
None of their draft picks from the 2008 draft that included Devin Thomas, Malcolm Kelly, Fred Davis and the very popular quarterback from Hawaii ever made a significant impact for the Redskins and there seemed to be no light at the end of the tunnel. Not too mention the Redskins traded their 2009 second-round draft pick and their 2010 sixth-round draft pick to the Miami Dolphins for defensive end Jason Taylor who was at the end of the road of his NFL career. Now I know you all are thinking "who would want to come to a team such as the 2008 Redskins?" Well, DeAngelo Hall did and the loyalty that he displayed on and off of the field for his entire Redskins career is that of a player who should not be forgotten.
LOYALTY
"Loyalty is defined as the state or quality of being loyal; faithfulness to commitments and obligations (Dictionary.com)." After being cut by the Raiders midway through the 2008 season DHall was seeking a team who was going to appreciate his unique talent and accept him for the very talented player that he was. Enter the Washington Redskins. After signing with the Redskins DHall stated that being released by the Raiders played a big part in him deciding that he didn't need to play for money anymore. Once you find someone or something that is worth fighting for then your loyalty to that specific person or thing will be everlasting.
Money cannot and should not buy or define your happiness. Money is something that is man made. Your feelings and emotions are what really matters. No matter how much money we make we all are still a human being at the end of the day. You must do whatever it is that makes you sleep well at night and for DHall that was signing with his hometown Redskins. Yes, DHall did sign a large contract with the Oakland Raiders. But he also had his worst year with that dysfunctional 2008 Raiders franchise. In an exclusive interview with Redskins.com DHall said 'I'm a Redskin. I grew up a Redskins fan and I wanted to be considered a Redskin for the majority of my career."
In order to find out what makes you truly happy you must ask yourself this question. "If I had all the money in the world, what would I do with my life?" In DHall's case the answer was to play for his childhood team, the Washington Redskins.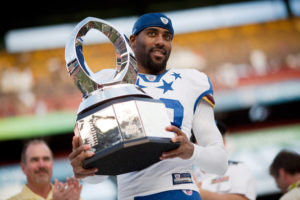 I AM LEGEND
In 13 seasons in the NFL DHall has amassed 797 tackles, 11 forced fumbles, 13 fumble recoveries, five scoop and scores, 43 ints, five pick sixes, three pro bowls. He also has a Pro Bowl MVP award under his belt. You cannot forget a player who has posted numbers such as DHall's. Many football fans love to argue with their emotions. They fail to argue the fact that DHall has shut down multiple great WR's.  These names include Calvin Johnson, Desean Jackson, Brandon Marshall and the infamous Dez Bryant. His number 23 jersey is already in the NFL Hall of Fame after intercepting Jay Cutler in 2010 four times and returning one for a 92 yard touchdown. The Redskins would go on to win, 17-14.
How could you forget about a player who has literally showed his loyalty to the Redskins over and over and over and over and over again (in my Marshawn Lynch Voice). He has done everything for the franchise. From leading the Redskins to the playoffs, to taking huge pay cuts and even switching his position to the CB position his status with real football fans should solidified for eternity. You may forgot many things in your lifetime but one thing you cannot forget is that when you speak of the Redskins and DeAngelo Hall don't forget to mention the word LEGEND.
#HTTR