Jameis Winston is primed for an elite season
Jameis Winston is set to have the best season of his young football career in 2017. The Alabama native has won his entire career up until now. He won the state championship in high school as a junior. Winston also won the Heisman Trophy and led Florida State to a National Championship in 2014. He was drafted number one overall in the 2015 NFL Draft.
The Tampa Bay Buccaneers finished last season with a 9-7 record, barely missing the playoffs. One of the biggest reasons they were in contention was because of the quarterback play from the former number one draft pick in Winston.
First Two Seasons: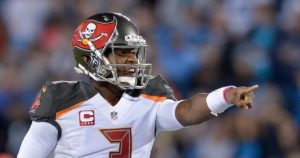 Since his days at Florida State, Winston has always been a vocal leader in the locker room and that carried over into the NFL. Winston had a great Rookie season as he won Pepsi NFL Rookie of The Year and was selected to his first Pro Bowl. Although it was a successful individual season for Winston, Tampa Bay finished in last place with a 6-10 record.
2016 was a more positive year for not only Winston but the team as a whole. Winston tossed 6 more touchdowns than in his rookie year and the team finished with a winning record of 9-7.
2015 Stats:
Passing Yards: 4,042
Passing Touchdowns: 22
Rushing Touchdowns: 6
Interceptions: 15
2016 Stats:
Passing Yards: 4,090
Passing Touchdowns: 28
Rushing Touchdowns: 1
Interceptions: 18
Winston has thrown more touchdowns before the age of 23, 50 touchdowns, than any quarterback ever. Only four quarterbacks have thrown more touchdowns in their first two seasons: Peyton Manning, Derek Carr, Dan Marino and Russell Wilson.
2017 Expectations: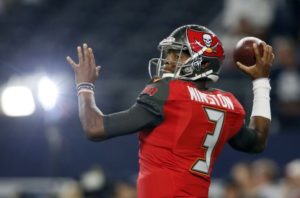 There is no question that the expectations are not only high for Winston but the entire Tampa Bay franchise. Winston will be coming into his third season as the starting Quarterback at a very young age, 23. Tampa Bay did an excellent job in the offseason to surround Winston with premier talent. DeSean Jackson, a deep threat that was needed, joined the team via free agency. O.J. Howard, the best Tight End in the draft, will help in both the run and pass game as he is a complete Tight End.
Winston will now be throwing to Mike Evans, DeSean Jackson and O.J. Howard. With all of the offseason additions on offense and defense, and Winston leading the way, there's no question that the Buccaneers have a real shot of becoming NFC South Champions.