Yesterday came and went, and to no surprise, the Washington Redskins and Kirk Cousins couldn't agree on a new contract. Before Free Agency started in early March, Washington used the Franchise Tag for the second consecutive year on Cousins. The two sides had until 4pm yesterday to work out a deal, or Cousins would have to play on the tag at a fully guaranteed $23.9M. The latter is what happened.
The two sides were in communication with one another, according to Redskins President Bruce Allen. In a press conference yesterday explaining the negotiations, Allen said "After discussions with Kirk face-to-face over the weekend, I want to clarify our negotiations for this year. Kirk is obviously important to our team and fans, and they deserve to know where things stand."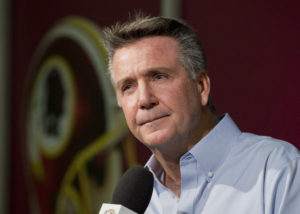 Allen would go on to detail the contract that was offered to Cousins. "On May 2nd, right after the draft, we made Kirk an offer that included the highest fully guaranteed amount upon signing for a quarterback in NFL History ($53 million) and guaranteed a total of $72 million for injury. The deal would have made him at least the second highest-paid player by average per year in NFL history."
Adding Insult to Injury
Allen coming out with the details of what had been offered to Cousins to this point is peculiar. The body of his conference almost seemed they were trying to prove to fans they did everything they could. Allen said things like "Despite our repeated attempts, we have not received any offer from Kirk's agent this year." Also, "Kirk has made it clear that he prefers to play on a year-to-year basis." To make matters worse, Allen called Kirk, "Kurt", six times in the conference.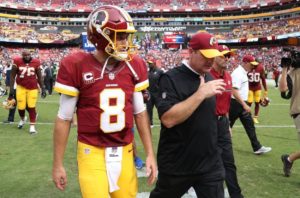 Yesterday afternoon, the contract surfaced in what the Redskins brass offered. A five-year, $110M deal was what Cousins and his camp turned down. In a league where guaranteed money in a contract is what means the most, overall, Washington low-balled Cousins.
Kirk Cousins vs. Derek Carr
To put the contract offered to Cousins in perspective, you have to go back a couple of months. The Oakland Raiders gave Derek Carr a five-year, $125M deal, with $40M guaranteed and an injury guarantee of $70M. The deal will pay Carr an average of $25M a season, with $69M paid within the first three-years.
Putting the two quarterbacks side by side in terms of production, Cousins has the slight edge.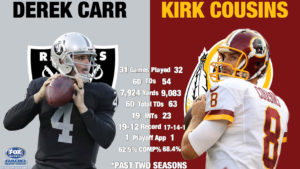 The contract that Oakland gave Carr should have been the starting point for Washington and Cousins. Washington offered $15M less for a quarterback with better numbers.
Better Money Under the Franchise Tag
The $53M that was guaranteed by Washington is just $10M more than what Cousins will have made last season and this season. Playing on yet another one-year deal, if his production is up to Washingtons "standards", they have the option to franchise him for a third time. That will cost the Redskins $34.9M. In total, if the tag is placed on Cousins for a third consecutive season, the five-year veteran will have made $78.8M in three years.
Washington has botched this situation. There is no other way to put it. In terms of locking up your guy for a good price, this deal should have been done last offseason. The contract that Cousins would have received last season would not have been what Carr received months ago. The offer by Washington before the 2017 draft was year too late.
Kirk Cousins vs. Andrew Luck
Indianapolis gave their signal caller, Andrew Luck, a six-year, $140M contract last season. The deal will pay Luck an average of $23.3M annually, with $47M guaranteed. Cousins has outplayed Luck the past two seasons as well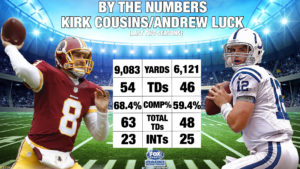 Quarterback Carousel
Most perplexing about this two-year saga is the fact that Washington hasn't had a franchise quarterback in over 20 years. It had been over 10 years since the Redskins had back-to-back winning seasons. Cousins accomplished this in 2015 and 2016.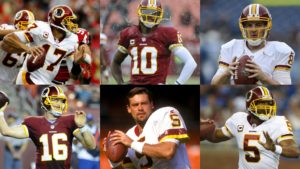 In a QB carousel that has seen Heath Schuler, Gus Frerotte, Trent Green, Brad Johnson, Tony Banks, Shane Matthews, Danny Wuerffel, Patrick Ramsey, Mark Brunell, Jason Campbell, Donovan McNabb, Robert Griffin III, and Colt McCoy in the last 23 years, Washington has dropped the ball on what should be their franchise guy, Cousins.
Some believe that Cousins could be traded before the trade deadline. If the other 31 teams believe he doesn't want to be in Washington, seeing them part with assets is unlikely. Washington's asking price for Cousins may be too high anyway.
Odds against Washington?
Washington has put themselves in a lose-lose-lose situation, as one of three things will happen in the next nine months. 1) Kirk Cousins will sign another franchise tag that will cost Washington almost $35M for one season. 2) The two sides will agree on a new deal, but the contract is going to cost much more than if a deal was reached last season. 3) Washington loses Kirk Cousins, their first franchise quarterback in 20 years, in free agency.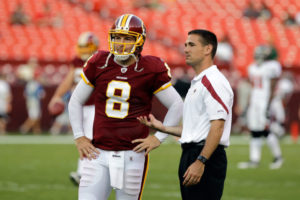 Teams will be lined up at the door next offseason to have Captain Kirk's services. The team he has been associated with the most is San Francisco, and rightfully so. Cousins' first offensive coordinator, Kyle Shanahan, is now the head coach for the 49ers. The history and chemistry is already there. You never know how a season is going to go, but teams like Arizona, Cleveland, Denver, Jacksonville, and New York (Jets) could be in the market for a new signal caller next season.
A franchise that was pointing in the right direction for the pieces they had on both offense and defense will come back down to reality soon. If they miss out on the most important position in the game today and on their team in Kirk Cousins, the next 20-years may look like the previous two decades.