The Jets should just cut Darrelle Revis
Twitter: Nicolas Wilcox @Nick_Wilcox25
2016 was an utter mess for the New York Jets. From nonstable quarterback play to the injury bug to just playing terrible football ending the season at 5-11. Their five wins only coming against the San Francisco 49ers in OT, Buffalo Bills twice, the Cleveland Browns and Baltimore Ravens. The Jets have plenty of decisions to make as they are one of the few teams that need to shed cap room. One way they can do that is by cutting Darrelle Revis.
The Revis Situation
Darrelle Revis came back to the Jets in 2015 to help the secondary once again after signing a five-year 70 million dollar deal. At the time it seemed like the right move although Revis got a big chunk of money once again. However, in 2016 he was one of the worst corners in all of football. Revis is now facing four felony charges and a misdemeanor.
The Jets' fading star hasn't been involved with the law since 13 years old and this couldn't have come at a worse time. It'll be up to the courts to determine what happened at 2:30 a.m. Sunday on the South Side section of Pittsburgh. However, he appears to be in a very sticky situation especially due to the money he was to collect in a matter of weeks.
Why he should be cut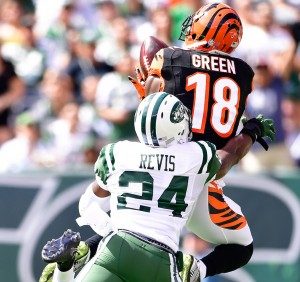 The argument could have been made for Revis to stay with the team. Due to all the success, being one of the great jets players of all-time and looking like a shoe-in for the hall of fame. Revis can and still be the mentor of the locker room that all the younger guys can look up to.
Unfortunately, a decision on Revis' future will need to be made quickly. On March 10th if Revis is still on the roster he'll be owed his $2 million roster bonus. Whatever the Jets do will be tough regardless. If they cut Revis the good news is that they'll clear $9.3 million in cap room. The bad news is that they'll still owe Revis $6 million his fully guaranteed base salary. New York could look to get the $6 million voided but it would be a drawn out process before the March 1oth deadline. If the gamble paid off the Jets would be looking decent, having the $6 million in cash, a cap credit while dumping a diminished player.
The money is only one subplot to this story, which will have twists and turns. If they keep him, it would be a yearlong distraction for the Jets. With head coach Todd Bowles heading into a must-win season, the distraction wouldn't help matters. Even if Revis' charges don't stick, he would still face discipline under the NFL's personal conduct policy.
A Sad End
The decline really came when Revis returned in 2015. Heading into the 2016 Off-season, a slew of problems came. Revis had off-season wrist surgery. A battle with his longtime agents ragged on. Followed by coming to training camp out of shape which in turn, displaying his worst performance of his career.
In all fairness of the Jets future, they need to move on. New York looks to be more in rebuild mode than contending for a title. One of the greatest players in Jets history, Revis, showed that he is over the hill at 31 years old and the Jets need as little distraction as possible. They need to focus on bringing in a quarterback for the future and fixing several other issues along with getting younger. Might as well just start with Revis.
To view more of my stories visit my page