What happened
North Carolina started the game with a three-point bomb from Joel Berry II. But instead of the game being a heavy-flowing high pace game it was more of a defensive struggle. Both teams were pressing to advance to the National Championship and in turn, caused bad shot selection from everyone. Senior center Kennedy Meeks dominated the paint with his offensive rebounding and finishing in traffic. Early on, he and Oregon's Jordan Bell battled down low all game but Meeks had more help with Isaiah Hicks and Tony Bradley. Meanwhile, Dillon Brooks and Tyler Dorsey struggled for Oregon as they shot a combined 2-for-11 in the half. Dylan Ennis uplifted his Ducks' teammates in the first half adding eight points but they were losing 39-36. Meeks and Justin Jackson had 23 points together as they took over offensively for their team.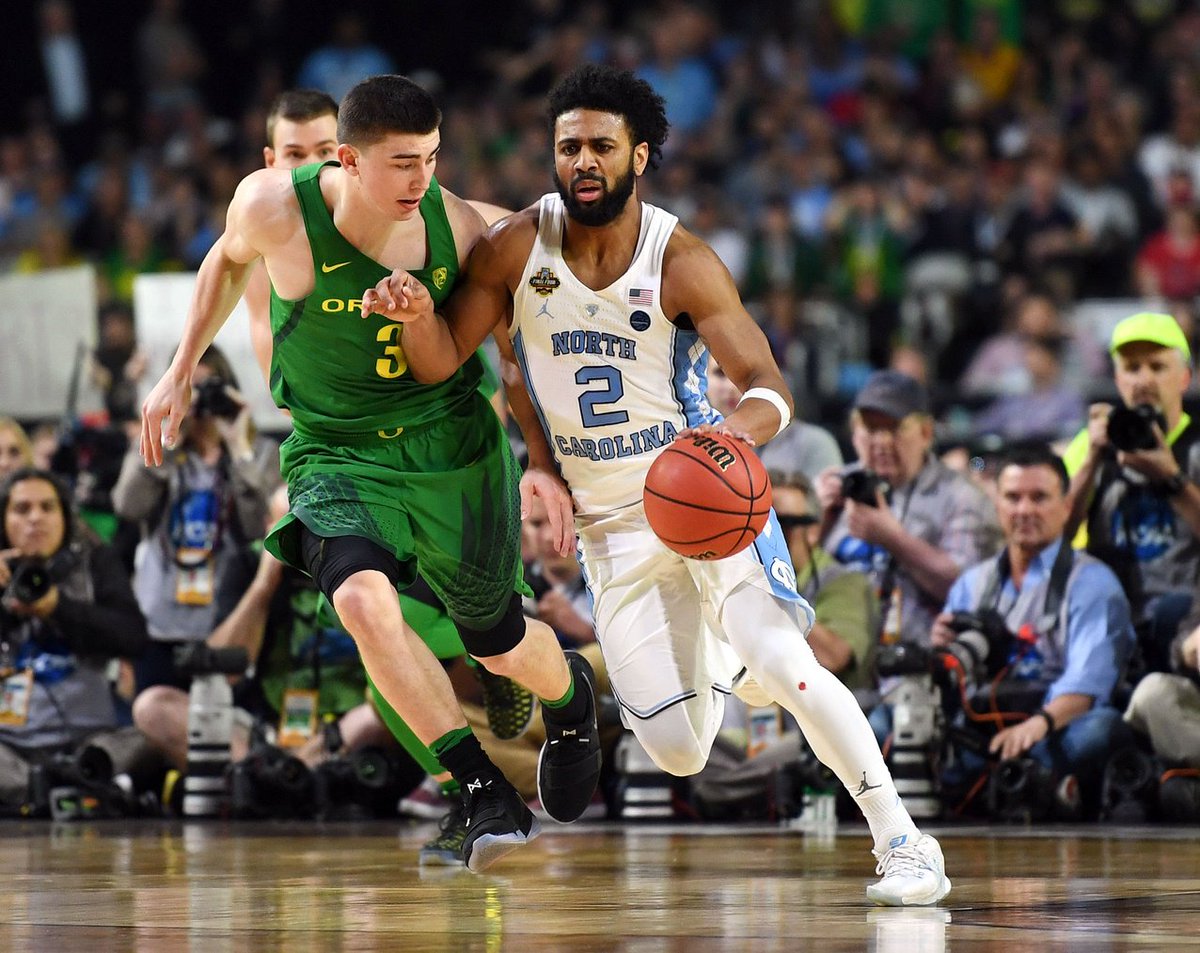 Second Half
In this half, both teams found some semblance of their offense and started to regain their efficiency. Rebounding was the huge deciding factor in the match-up. Each had 43 rebounds a piece but North Carolina had 17 total offensive rebounds which won them the game. After a tight first half of basketball, Jackson and Meeks would score 24 straight points for UNC within a span 11 minutes starting with 1:24 left in the first half. On the other hand, Dorsey would start to find his way to the basket and get to the free throw line. He had 21 points on 3-for-11 shooting but had 12 points from the stripe. Also, Ennis added 10 more points to bring his point total up to 18.
With Joel Berry II struggling to produce, Theo Pinson would pick up the playmaking for North Carolina. He finished with five assists but more so his energy on the fast break and rebounding the ball was huge. The key match-up in this game was Bell vs Meeks. Winning the battle of the paint coming into the game was something both coaches would emphasize. Bell finished with 13 points and 16 rebounds and four blocks. Opposite of him was Meeks who ended the game with 25 points 14 rebounds (8 offensive) and three steals.
In The Closing Moments…
In the waning moments of the game, North Carolina was up six with 54 seconds left. Tyler Dorsey hit a three that bounced around the rim then Keith Smith finished a layup to bring their deficit to one. Oregon had to play the foul & free throw game but Meeks and Berry II missing 4 free throws was the story down the stretch. With 5 seconds left, Pinson slapped back the offensive rebound on Meeks' second miss then after Berry's second miss Meeks clawed the game-sealing rebound. Using his quick reflexes and basketball IQ he flipped the ball back to Pinson who would dribble the remaining seconds out.
Overall Outlook: North Carolina vs Oregon
The North Carolina Tar Heels vs Oregon Ducks was an instant classic. Neither team wanted to give a step and it showed in every possession. Kennedy Meeks was the player of the game due to his efforts on the glass and valuable buckets in key situations. Without him, UNC would have been blowout in this Final Four match-up. Also, credit to the team defense of UNC as they made Oregon commit 16 turnovers which created more fast breaks and open looks. ACC Player of the Year Justin Jackson proved his merit 22 points while his counterpart Joel Berry II struggled shooting 2-for-11 from the field.
Up next is the National Championship for North Carolina as they face the Gonzaga Bulldogs on April 3rd. Meanwhile, a great season for the Oregon Ducks comes to an end. They battled the entire game and still had a noteworthy season. Look out for our National Championship preview.