The biggest party of the summer will take place will invade Brooklyn at the Barclays Center for Summer Slam, here are my overall thoughts for this event.
The Hardy Boyz and Jason Jordan Vs. The Miz and The
Miztourage (Kickoff Match)
The Hardy Boyz and Jason Jordan will take on The Miz and The Miztourage Bo Dallas and Curtis Axel in a six-man tag match. This whole feud started when Jason Jordan appeared on Miz TV, Jordan and Miz they went back and forth on the mic. I am not really interested in this match it should be a singles match between Jordan and The Miz instead. That being said, Jordan and The Hardy will walk out victorious sending the Miztourage back to Hollywood upset.
Neville Vs. Akira Tozawa
Neville is heated and he will have revenge on his mind. Following Akira Tozawa's upset victory over The King of the Cruiserweights as he ended his dominant title run on RAW. These two Cruiserweights first met up at the Great Balls of Fire pay-per-view. However, Neville retained his title by any means necessary against Tozawa.
Then the next night on RAW Neville made Tozawa tap out via the Rings of Saturn. At SummerSlam, Neville will push Tozawa to the limit but I don't see him dropping the WWE Cruiserweight Championship anytime soon. Titus Worldwide will be celebrating in Hollywood after their client's big win.
SmackDown Tag Team Championship
The Usos vs. The New Day
You can make the case that the Usos and New Day have been carrying the SmackDown Live for months now. It all started with their legendary rap battle a month ago on SmackDown Live.
They first met back at the Money In The Bank pay-per-view during that match The Usos barely survived and they retained their titles via a count out. Then at Battleground, The New Day it was their first pay-per-view on the SmackDown Live brand and they got their revenge on The Usos when they won back their Tag Team Championship.
They have had numerous great singles and tag-team matches that have led up to SummerSlam which have kept fans entertained. This match should once again deliver on all levels. There is no doubt in my mind that the New Day will retain their titles and they will have a long title run.
Big Cass vs Big Show
Big Cass showed his true colors when he turned on his best friend and tag team partner Enzo Amore. Cass has been a man on a mission to destroy everything in his path. Then Enzo Amore built a friendship with the Big Show, that is how he became involved in this whole picture. To be honest I don't really care about this match because it's stupid having Enzo Amore in a shark cage. Big Cass will get the win in this contest possibly will the help of Enzo Amore or the club.

Randy Orton vs. Rusev
This match was booked because Rusev was irate that he was off the SummerSlam card without a match. Therefore Randy Orton accepted his challenge and he gave Rusev an RKO out of nowhere.
Then on SmackDown Live, Randy Orton defeated Jinder Mahal with an RKO out of nowhere. All of sudden, after the match Rusev attacked him for behind. This could be a toss-up but Orton should walk out victorious over Rusev in what will be a great match

SmackDown Women's Championship
Natalya vs. Naomi
Natalya is back in the title she survived a 5-Way Elimination Match at WWE Battleground, against Charlotte Flair, Becky Lynch, Lana, and Tamina. It is a long time coming because the last time that Natalya was champion was when she won the Divas Championship back in 2010.
On the other hand, Naomi has been a roll since she won the SmackDown Live Women's Championship at Wrestlemania 33 in her hometown of Orlando in a six-pack challenge. However, Naomi will be facing her toughest test to date. Natalya will finally have gold around her waist. After the match, it will be short-lived because Carmella will cash in her Money in Bank briefcase to become the new SmackDown Live Women's Champion.

Bray Wyatt and Finn Bálor
This feud started when Bray Wyatt interfered in a Finn Balor Seth Rollins and he gave Finn Balor a Sister Abigail. Then Wyatt would love to play mind games with Balor. Balor has been going in a downward spiral as he lost to Elias multiple times.
This past RAW Bray Wyatt shocked the world when he got the win over Balor. After the match, Wyatt poured red substance on Balor. Then later on in the night in an interview, Balor stated the Demon King will appear at SummerSlam. Balor will defeat Wyatt and he will start his winning ways.
RAW Women's Championship
Sasha Banks vs. Alexa Bliss
The goddess of the WWE, Alexa Bliss will defend her RAW Women's Championship against the Boss Sasha Banks. They first met for gold at Great Balls of Fire pay-per-view. Bliss felt that she was in danger Banks won via count out but Bliss retained her title.
The women's title picture was up in the air with as Bayley injured her shoulder. Therefore, she would have to miss SummerSlam due to the injury. There were two triple threat matches on RAW to crown a new number contender for the RAW Women's Championship.
Banks and Nia Jax both advanced in their triple threat matches. Then the two battled this past RAW to see who would advance to SummerSlam to face Bliss. It was a fantastic match and Banks outlasted Jax she made her tap via the Banks statement. It won't change the fact that Bliss will walk in and out of SummerSlam as champion.

Raw Tag Team Champions
Dean Ambrose and Seth Rollins vs. Cesaro and Sheamus
Ever since Cesaro and Sheamus won back the RAW Tag Team Championships from The Hardy Boyz, they have not looked back. Cesaro and Sheamus were an unlikely team at first but they have developed great chemistry.
Ambrose and Rollins have a long history together. They were apart of one of the most dominant factions in WWE history The Shield. Rollins decided to back stab The Shield three years ago as he joined The Authority. For about a month now, Cesaro and Sheamus were involved in singles matches against Rollins and Ambrose.
The last couple of weeks both Rollins and Ambrose saved each other from beat downs. It was teased for weeks now that Rollins and Ambrose would reunite as former brothers. Finally, this past RAW it was made official that Rollins and Ambrose will join forces once again. At SummerSlam, this tag team match will be amazing and history will be made as Rollins and Ambrose will be crowned the new RAW Tag Team Champions.

Baron Corbin vs. John Cena
Both Corbin and Cena are headed in completely different directions. Cena lost his chance to battle for the WWE Championship, as he lost to Shinsuke Nakamura a couple of weeks ago. Then Corbin blew his opportunity to cash in Money In The Bank last week on SmackDown. Corbin was shocked when Jinder Mahal retained his WWE Championship via a roll up. Cena and Corbin were without a match a Summerslam. Therefore, SmackDown General Manager Daniel Bryan made a match between the two. Corbin has lost all of his momentum Cena will clearly come out on top in this match.

United States Championship
Kevin Owens vs. AJ Styles
This match will be simply incredible between two workhorses in the ring. This rivalry restarted when AJ Styles shocked the world when he defeated Kevin Owens at Madison Square Garden for the United States Championship.
During this feud, it has featured controversial finishes. At Battleground when Owens reclaimed the US title from AJ in part because of a mistake by the referee. The rematch on SmackDown Live AJ Styles defeated Owens but his shoulders were up so once again it was the referee's fault.
Therefore, Owens demanded a rematch for the US Championship at SummerSlam. This time there is a special stipulation Shane McMahon is the special guest referee. This past SmackDown was very interesting as both Styles and Owens met in the ring along with Shane.
As a result, Styles hit Shane by accident. The outcome is extremely difficult to predict but Styles will retain his United States Championship. Shane McMahon will screw Owens out of the title.

WWE Championship
Shinsuke Nakamura vs. Jinder Mahal
This match will be a very intriguing one between two international stars. Jinder Mahal continues to silence his critics with an impressive title reign dating back to Backlash. Shinsuke Nakamura has exploded on the scene since his NXT days as he became a two-time NXT Champion. On the main roster, he hasn't lost any steam and he has his sights on more WWE gold. Nakamura picked a massive victory over John Cena to be crowned the new number one contender.
It will be compelling contest due to the contrast in fighting styles between Nakamura and Mahal. The Singh Bros will be involved in this match but regardless of all the adversity. Shinsuke Nakamura will make history in Brooklyn once again and he will six-pack the new WWE Champion.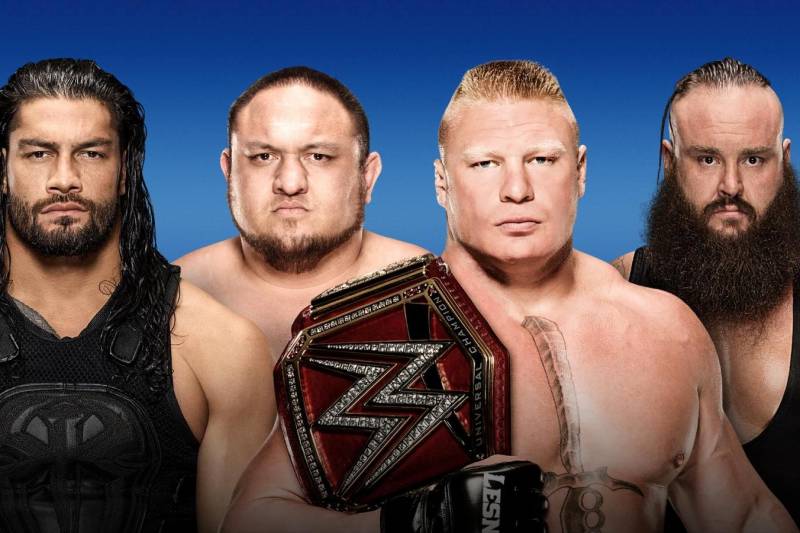 Fatal 4-Way Match
Universal Championship
Roman Reigns, Samoa Joe, Braun Strowman and Brock
Lesnar
Fans have been highly critical of this main event but I am invested in this main event. There is a special stipulation that if Lesnar were to lose SummerSlam, Lesnar and Heyman would leave the WWE. All three opponents have history with Lesnar and have their eyes set on the gold. You can make a case for everybody to win this match but I envision Lesnar retaining his title.
Follow @Nino_416 on Twitter