The Washington Football Team will take their three game winning streak on the road today as they take on the San Francisco 49ers in Arizona. Washington has been competitive in every game since losing to the Los Angeles Rams almost two months ago. The 49ers have had some struggles with injuries but are starting to get guys back and play better. Washington ended the Pittsburgh Steelers undefeated season on Monday night while the 49ers lost to the Buffalo Bills on Monday night. Both teams enter this game at 5-7 and in the thick of the NFC playoff race. Here are my three keys to Victory for Washington in this game.
1. New week, new game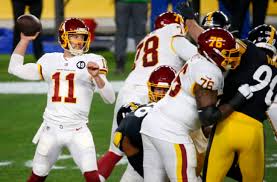 Proving the pundits wrong and defeating the Pittsburgh Steelers was proof that this is a different team under Coach Ron Rivera. The determination and will shown by the team was exciting to see. However this is a new week with new challenges. The 49ers are still the defending NFC Champions and deserve that respect. Washington needs to play with the same chip on their shoulders as they did last week. Washington matched the Steelers physicality the entire game, they must continue to do that today. The old mantra is go 1-0 this week and Washington must give the 49ers their respect and full attention.
2. Run the ball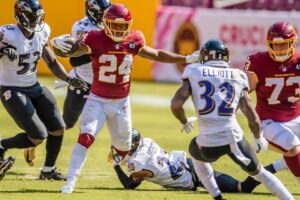 Star rookie running back Antonio Gibson is out today with a turf toe injury. That should not mean that Washington abandons their running game. With the injuries to the interior of the 49ers defense, Washington still needs to run the ball. Their two back system with Gibson and McKissic was working wonders, but Barber needs to get 12-15 carries today. Steady run game will keep the offense on the field and wear down the thin 49ers defense.
3. Watch for Kyle's tricks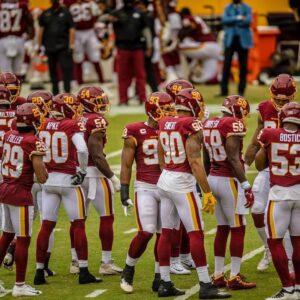 Much has been written about Kyle Shannahan and his disdain for the Washington franchise. Last year's matchup was billed as a revenge game for him in that 9-0 rainy slop fest last season at FedEx Field. Washington does not need to worry about that, but they do need to watch out for his play calling. The Linebackers especially have to make sure their eyes don't get caught looking in the wrong places. There are some offensive players on the 49ers that can still make plays. Shannahan's play calling is versatile and attacks all levels on the field. The defense must play disciplined to win the game.
Prediction
I have picked Washington in every game since the Rams and have been 4-3 as the team's record in the last seven games. I believe that Washington is  in a better place health wise and momentum wise than the 49ers are. So I am picking Washington to keep their win streak going against the 49ers. Washington 24, 49ers 16