This week there have been rumblings that Kyrie Irving wants to be traded. Irving stated his preferred destinations to be traded such as Spurs, Heat, Knicks, and Wolves. Here are my thoughts on this compelling scenario with the Cleveland Cavaliers.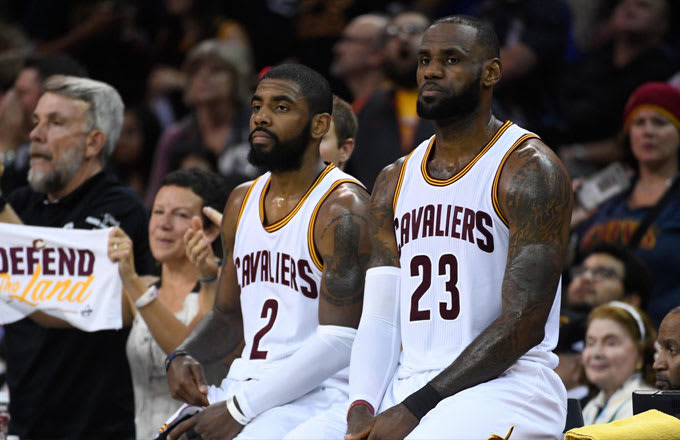 Shadow
There were reports that within Kyrie camp that he doesn't want to play with Lebron in his shadow. It was reported by Brian Windhorst the news was leaked out by people within Lebron's camp. Kyrie is looking forward to his future and there is serious doubt that LeBron James is staying with the Cavaliers next off-season. Kyrie should be careful what he wants because LeBron has helped Irving to three straight NBA Finals.
Stability
Kyrie Irving was the number one NBA draft pick back in 2011 similar to LeBron James. Fans often forget that Irving's first couple of years in the league, it was a transition for him he was injured and he was never fully healthy. In addition, he played for three different coaches during his early years in the league.
However, the Cavs ownership did everything in their power to finally bring a Championship to Cleveland back in 2016. It was a special moment for Cleveland as they were done three to one to the Golden State Warriors. Irving hit the game winning shot on the biggest stage on in game seven of the NBA Finals.
The win finally brought a Championship to Cleveland it ended a championship drought of 52 years. The Cavs have been a mess this entire NBA free agency. They have made a few moves that don't improve them in any way. The team decided to get rid of their general manager David Griffin just days before the NBA draft.
Face of the franchise
Irving wants to be the focal point of the new team he will eventually get traded to. Looking at his four team options he will not be the main focus of any team he gets traded to. Now don't get me wrong Kryie on the Spurs would be a good look. The Spurs would have to give up a lot in order to acquire him. Yes, they would definitely look to upgrade their point guard situation and eventually replace Tony Parker. Despite the fact, Kawai Leonard will still be the face of the Spurs.
Best fit
It is extremely difficult to predict the best scenario for Irving because several variables need to happen in order for this trade to be completed. Even though it will not be a popular decision Kyrie to the Knicks might be a great fit.
Kyrie Irving and Kriptas Porzingis can form a deadly one to two punch. Now the Knicks might not have the deepest team, in a significantly weak Eastern Conference. However, now that the East will have no competition once LeBron leaves the Cavs. It will be a match made in heaven because Irving is from New Jersey so it will be a homecoming.
Conclusion
It will be very intriguing to see what happens to Kyrie Irving this off-season. The Cavs have acquired Derrick Rose for a one-year deal. Irving is a fantastic player but he can't lead his team to the NBA Finals without help. Once this trade gets completed he will finally realize the significance of LeBron James. As the saying goes the grass is not always greener on the other side.
Photos courtesy via Complex, NBA, Slam Magazine, Sports Illustrated
Follow @Nino_416 on Twitter