Training Camps are officially underway and that means one thing, football season in amongst us. A few teams opened up camp yesterday, while the majority opened theirs today. Among those teams starting today were the Washington Redskins.
Pryor's First Training Camp With Washington
All eyes were on the new WR corps Washington inherited after an up and down offseason. The burgundy and gold lost their two leading receivers, Desean Jackson and Pierre Garçon, in free agency. To counter the move, they were able to acquire one of the top heralded free agents at that position, Terrelle Pryor.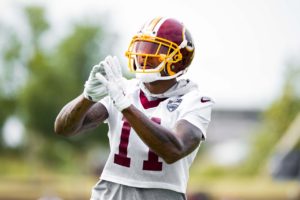 Pryor lined up against top CB Josh Norman for most of the day, and he did not disappoint. On a 15-yard out route, Pryor made a crisp cut that left Norman still stepping backwards. Pryor made the catch and tip-toed the sideline.
When asked about what he expects this year between him and Cousins, Pryor said "Great things. That's up to myself and him. Just to stay on the same page and we are doing real good together. We talk an awful lot and we connected today about six times."
Nice Start For Josh Doctson
Also in the WR corps is second year veteran Josh Doctson. In his rookie season last year, Doctson didn't see much of the field due to injury. The former first-round pick looked crisp in his routes and catching ability today. In one-on-one drills, Doctson put a stutter step on Quinton Dunbar that gave the 6'4″ deep threat plenty of space to haul in a 40 yard touchdown.
Kendall Fuller Shinning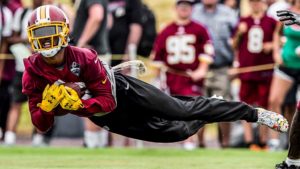 Another group that saw a lot of attention today were the DBs. While Doctson and Pryor had good days against some, Kendall Fuller was able to return the favor. Fuller snagged two interceptions in today's practice. The first INT came against Kirk Cousins as he went deep to Brian Quick in double coverage. His second pick was off of Nate Sudfeld as some miscommunication happened between he and the receiver.
2017 first round pick, Jonathan Allen, spent the day working with the second and third unit. When asked what he's looking forward to the most, Allen said "I'm just looking forward to playing football. This is the longest I've gone without playing football since getting to college."
A key player that was absent today was TE Jordan Reed. Washington announced yesterday that the five-year veteran would start training camp on the PUP list. Coach Jay Gruden on Reed's availability "he will be on the PUP list for about a week with a big toe injury."
Second Day For The Washington Redskins
Washington is back at it tomorrow in Richmond, Virginia for a 10:35am walk-through and 3pm practice.
Cody Stewart can be reached on Twitter @_CodyStewart