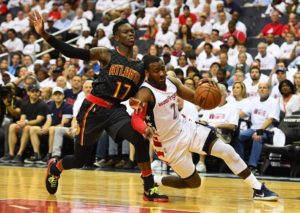 The Washington Wizards will travel home with the series tied 2-2 after a 111-101 loss to the Atlanta Hawks.
 Intense Start
With emotions running high over the first three game, both teams came out ready to play.  The game went back and forth throughout the first quarter with neither team giving the other an edge.  With Paul Milsap and Markieff Morris having a small personal rivalry, Morris picked up two quick fouls.  With Morris on the bench, Washington went on a 11-0 run to take a nine-point lead.  To add insult to injury, Dennis Schroder picked up three fouls in the first quarter.  The Wizards kept the foot on the pedal and ended the quarter with a seven-point lead.  John wall and Bradley Beal combined for 17 points to lead the way.
The second quarter began with both team struggling.  They combined for eight points over the first four minutes of play.  The Hawks then caught fire and went on a 12-0 run to take a three-point lead with Schroder on the bench.  The Wizards downfall came with six turnovers in the first half of the quarter.  After Washington tied the game at 43, the Hawks went on a 7-0 run.  The Wizards were outscored 31-15 in the second.  After a demanding start, Washington went into halftime down 59-50.
Don't Call It a Comeback
After a quarter they wish they could forget, Washington started the third quarter on a 10-2 run.  As a result, Washington was only down one point.  Atlanta kept the pressure on and would not let Washington take the lead.  However, the Wizards did not let the Hawks run away with the lead.  Due to their strong play and holding Atlanta to 18 points, Washington went into the final period tied at 77.
The Hawks started the final quarter on a 12-4 run to take a eight-point lead.  However, Washington came right back with a 7-0 run to cut the lead down to one point.  Just when it seems like the Wizards are back in the game, Atlanta goes on a 14-5 run to take a ten-point lead.  Washington never recorded and Atlanta outscored them 34-24 in the fourth.
The Hawks had seven players in double figures.  Dwight Howard had 16 points and 15 rebounds and Paul Milsap had 19 points, nine rebounds and seven assists. Beal led Washington with 32 points.  Wall added 22 points and 10 rebounds.
With the series tied, Game 5 will be in Washington on Wednesday night.