Jamal Adams Wins $50,000 Before Playing an NFL Snap
Jamal for the Win!
With the 6th pick of the 2017 NFL draft, the New York Jets select Jamal Adams of LSU. Adams was selected 32 years after his father George Adams was selected by the New York Giants. Certainly, a New York State of Mind for the Adams Family. But the bigger story is, he just won $50,000 before signing his contract.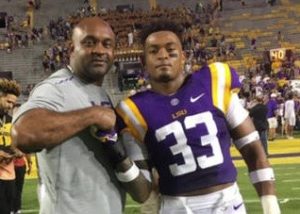 Adams Family Bet
At 10 years old, Jamal told his dad that he would be drafted higher than him in the NFL. The bet was for $50,000. George was selected in the first round by the Giants at number 19. Clearly, Jamal won that bet and did not have to sweat at all. The Jets picked him at number six. The Jets finished at 5-11 last season and did the right thing by addressing their defense in the first round. It will be interesting to see Adams prepare for Tom Brady twice a year. But for now, he has $50,000 extra coming to his bank account…if his dad doesn't renig on the bet.
Thrilled to have you @TheAdams_era! #JetUp pic.twitter.com/VtGUqHA24y

— New York Jets (@nyjets) April 28, 2017
@BrianHWaters