For the better part of two plus decades, Tom Shaw has had a chokehold on the NFL draft prep training industry – but all of that is about to change. Athlete Innovations is new to Tampa, but not new to the game. Founder and Director, Shaud Brown brings experience as a collegiate football player as well as strength and conditioning at the NFL level having spent time with the Cincinnati Bengals. Brown founded AI in 2018 as an exclusive premier athletic facility offering both physical and mental training to college athletes focused on preparing for the next level.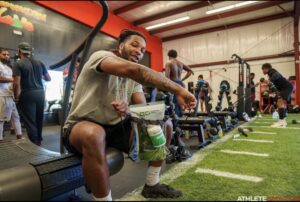 The grand opening of the members-only facility took place on January 31, ushering in less than 20 athletes preparing for upcoming NFL pro days and the Combine. The exclusivity is one of the program's selling points. According to Brown, maintaining a low coach to athlete ratio is key – and something that sets AI apart in city that has routinely drawn the eyes of athletes training in the offseason to due its location and favorable weather conditions. Several of Brown's past trainees include active NFL players such as linebackers Lavonte David, Devante Bond, and Jordan Davis as well as defensive tackle Deshawn Williams. His current roster features defensive end Deandre Johnson (Miami), defensive tackle Keyshon Camp (Pitt), and running back Tyreik McAllister (College of Charleston), among others. A day in the life of an AI athlete includes nutrition, speed, agility, and strength training, in addition to psychological training. 
Brown's training experience doesn't stop at football. He also worked with NBA, MLS, and MLB offseason training programs before founding Athlete Innovations. The facility also offers semi-private boxing lessons and HIIT fitness classes to the general public. AI also collaborates with fitness brands including IQBAR, Slate Milk, Outstanding Foods, EyePromise, and GO Sleeves. The facility is located at 5012 N. Coolidge Ave. Suite B in Tampa, Florida. Find out more by following Athlete Innovations by visiting their website, Instagram, or Twitter pages.