Brady Reaches 200 Career Wins; Patriots Seeking Out Threats in AFC
It wouldn't be an NFL season if the names Tom Brady and Peyton Manning didn't come up in a conversation. This past Sunday just that occurred and may continue on for weeks to come.
What may be the topic this time? Well, Brady recorded his 200th victory tying Peyton Manning for the most all-time wins that include the regular season and the playoffs. With a record of 9-2, Tom Terrific and his Patriots are definitely making the playoffs and look to be destined for  Super Bowl LI in Houston.
Brady has the chance to extend this. Looking at the career wins of all quarterbacks active and retired who've reached the 100 mark, the closest active QB is Drew Brees with 135 wins followed right behind him is Ben Roethlisberger with 130. This man is 39 years old and says he will continue to play past 40 until he can no longer play anymore. Looking at his career stats other than 200 wins, he did also surpass 60,000 passing yards in his career joining four other quarterbacks: Dan Marino, Drew Brees, Brett Favre and Peyton Manning.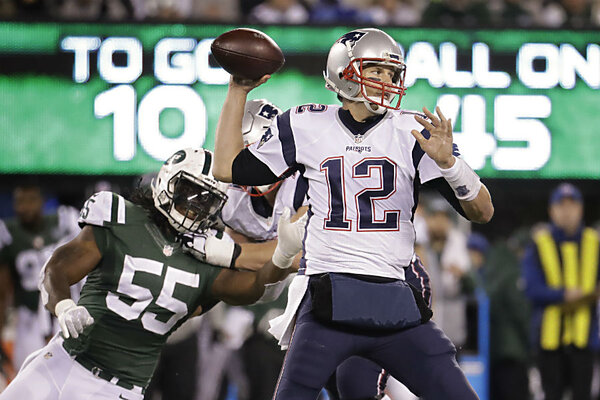 What else does he possibly have to prove? Brady is the GOAT and apparently has no plans of stopping anytime soon.
With 18 touchdowns and just one interception, he can lead the Patriots to another winning season with a possibly a fifth Super Bowl. But of course, that task will not be easy in the AFC. One division, the AFC West, has a chance of three teams making the playoffs: Oakland Raiders, Kansas City Chiefs, and the Denver Broncos. Just two of them, Raiders and Chiefs, may pose a threat to the Patriots reaching their goal.
Oakland currently has the same record as New England with the Chiefs just one game behind at 8-3 after an overtime win over the Broncos in OT. Although the Raiders are progressing forward, some can question their last win over the Panthers once Derek Carr was out temporarily for a pinky finger injury. Oakland had a 24-7 lead at the half but allowed Carolina to score 18 unanswered points in the third as the Raiders were scoreless in that quarter.
It goes to show Oakland is not invincible and they can be defeated. The Chiefs know firsthand with one of the Raiders' losses being to them, 26-10.
It's possible the Patriots will not see either team until the AFC Championship, if not the divisional round. First things first, New England must continue on their path of success and keep progressing.  Securing the division, a first-round bye, along with home-field advantage,  should be next of the Patriots checklist.
New England must first continue to get through their injuries, one being TE Rob Gronkowski. It's gone from hamstring in the beginning of the season to chest and now back. As you know he is on the cover of Madden 2017, so to many that curse does still exist.
These next five weeks will be challenging regardless of the opponent and the outcome of players, but it shall prove true that only the strongest will survive.